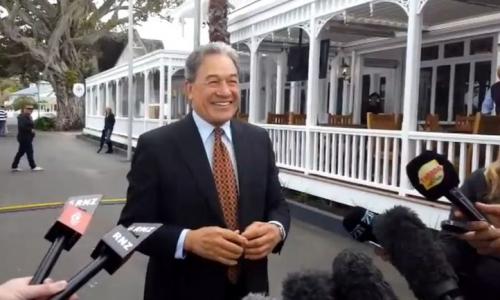 New Zealand First leader Winston Peters he will be talking to colleagues "over the next few days" about which party he will support.
On last night's results, National, with a likely 58 seats, and Labour-Greens with 52 seats between them, would need Mr Peters to form a government.
Both National and Labour parties are starting attempts to form a government.
Mr Peters alternately chastised and joked with reporters during a meandering 20-minute media conference held on the waterfront in Russell outside his hotel this morning.
Dressed, as usual, in full suit and tie, he was as inscrutable as ever, replying, "Why would I tell you?" when asked what he would want at the negotiating table.
"Do you want deputy prime minister?" he was asked.
"Been there, done that," Mr Peters replied.
"Nobody quite knows what the result last night means," he said.
The 384,000 special votes still needed to be counted and some things could change marginally, he said.
"In the mean time we've just got to wait and see what that means – talk to my colleagues over the next few days.
"And then we'll tell you what we're prepared to do."
Mr Peters said he hadn't received any calls from other political parties this morning, nor called any of them himself.
In a rare direct answer to a question, he said he never promised to get rid of the Māori seats – just to hold a referendum on their future.
He sparred with individual reporters, calling their questions irrelevant and at one point jokingly threatening to pick up a journalist and "throw you in the water over there" in response to the question, "How long will you hold the country to ransom for?"
He was incensed by questions about his future movements. "Where do you guys get off asking that?"
Reminded that he had said there was no fun in the campaign, he replied: "I actually am [having fun] now."
Winston's wish-list
New Zealand First now holds the balance of power post-election, but what sort of demands will Winston Peters bring along to the negotiating table?
Mr Peters has previously told RNZ that he'd never refer to bottom lines in terms of what he wanted from any post-election talks.
"My caucus colleagues, my board and my party is entitled to full consultation before somebody steps up like some dictator and says, 'I want this and I don't care you guys want.'
"I have never gone out talking about bottom lines."
Despite that, Mr Peters has given some indications of what issues might be on the negotiating table:
No water tax
Mr Peters has said his party will not support Labour's policy to impose water taxes on farmers.
However, he has said he supports a tax on water bottlers, saying companies should pay a royalty if they are sending New Zealand water overseas.
A referendum on Māori seats
If his party is part of the next government, he promises a binding referendum on whether to abolish the seven Māori electorate seats.
He argues Māori electorates have failed to deliver what Māori really need and were a form of "tokenism".
The party also wants referenda on legalising marijuana, legalising euthanasia and repealing the anti-smacking law.
Pike River
Mr Peters has previously pledged to re-enter the mine, even volunteering to go in himself.
"We just need political commitment and I gave mine a long, long time ago to the people of Pike River down on the West Coast," he said.
Shift Ports of Auckland
Mr Peters wants to move Auckland's port to Northland.
He has described that as a cast-iron commitment, saying the container port would shift by 2027 and the cars that are now delivered to Auckland would shift to Northland within two years.
Student loans write-off scheme
New Zealand First is promising to abolish student loans if the student agrees to work in New Zealand.
The party proposes that for every year a student stays in the country and works, one year of their debt is written off.
NZers owed share of government royalties
Mr Peters wants the regions to get a 25 percent share of government royalties from water, oil and mineral extraction and for the GST paid by tourists to be returned to the region in which they spent their money.
Modernising the Gold Card
New Zealand First wants the SuperGold card to be more than a "dumb piece of plastic" by turning it into a debit card that collects loyalty points.
"You would think it was deliberate and someone was setting the Gold Card up to fail. Well not on my watch," Mr Peters said.
"The Gold Card has not kept up with the digital and technical advances of loyalty programmes and payment technology."
Mr Peters also wants the card to include three free doctor visits and one eye test a year, and discounts on power bill during winter.