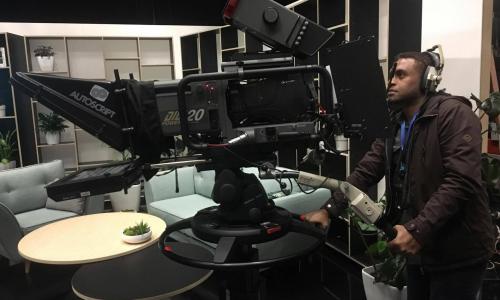 Broadcasters from various organisations based around the Pacific have had a golden opportunity to gain invaluable skills and knowledge from their New Zealand peers.
Pacific Cooperation Broadcasting Limited's (PCBL) inaugural Media Exchange Programme (MEP) got underway in May, with the initial four broadcasters arriving in Auckland for a two-week placement, at either TVNZ or Mediaworks.
The first exchange took place from May 15, and consisted of Temo Sukanaivalu from Cook Islands TV, Anthony Roebeck of Samoa Broadcasting Corporation (TV1), Glenda Gabriel from Papua New Guinea's EMTV, and Tonga Broadcasting Commission's Onesi Saluni.
A second group – including Fred Osifelo (pictured) from Solomon Islands Broadcasting Corporation, Faiyaz Khan from Fiji Broadcasting Corporation, Tifaga Tupuiliu from Broadcasting Corporation of Niue and Vanuatu Broadcasting and Television Corporation's Horofino Morin started their two-week training on June 5.
The Pacific broadcasters were mentored by media operators and engineers from TVNZ and Mediaworks.
Their training covered upskilling in all aspects of media operations – presentation suite, video editing, camera work, outside broadcasting, news production, master control room, audio engineering, and vision-switching.
This exchange was a combination of both observation and practical experience.
General Manager for PCBL Natasha Meleisea says the two groups truly grasped the opportunity to learn new skills with both hands, and threw themselves into the training.
"The goal of the programme is to provide insights, knowledge and hands-on experience for Pacific media operators, to take back to their respective TV stations to implement and/or improve their capabilities, current systems and output," Natasha explains.
"Feedback has been great from our participants – they have found the experience very insightful and have taken away a lot of useful skills from it, to apply in their own stations back home."