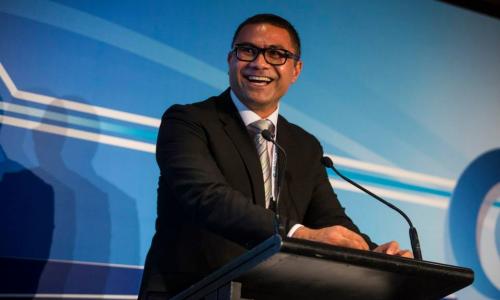 After three years at the helm of Pacific Cooperation Foundation (PCF), Laulu Mac Leauanae has been appointed as Chief Executive of the Ministry for Pacific Peoples (MPP). 
State Services Commissioner Peter Hughes officially announced Mac's three-year appointment recently, and warmly welcomes Mac to the Public Service.
"He is a very talented young leader who has deep connections and networks with NZ's Pacific communities as well as Pacific Island governments and experience working with New Zealand government agencies," the Commissioner adds.
Mac, a New Zealand born Samoan (Sa'anapu, Upolu and Iva, Savaii) first came on board at PCF as CEO in March 2014, during which time he has nurtured existing relationships, and established new contacts within the region, while striving to promote prosperity in Pacific communities.
Highlights during his tenure as CEO include PCF's involvement at the 2014 Small Island Developing States (SIDS) Conference in Samoa, where the Foundation set up the SIDS Village and marketplace; hosting the 2016 Pacific Wave Conference – Prosperous Futures through Technology, which featured key note speakers Jamie Beaton and Dr Michelle Dickinson; and the creation of an active NZ Scholar Alumni Network and an effective Summer Internship initiative, Mac says.
"Other highlights include the relationship building with various stakeholders, ministers and communities throughout the region, and working with the PCF team," he adds.
Prior to taking up his role with the PCF, Mac has held senior management roles in a Pacific-based horticultural product business and an Auckland-based Primary Healthcare Organisation.
Earlier in his career, Mac worked in Pacific community and business development with a role at Pacific Business Trust.
He holds an MBA from Henley Management College, UK, with his dissertation focusing on 'Community Participation in Governance', as well as an LLB from Auckland University.
Having worked in the region for the past three years, Mac is looking forward to serving the Pacific community in a NZ setting.
"During my time at PCF, my goal was to help Pacific in the region flourish through our initiatives, and now I will try to the same for the New Zealand-based Pacific communities," he says.
PCF Chairman Peter Kiely, on behalf of the Board of Trustees, has extended his congratulations to Mac.
"This is a real credit to Mac," he says.
"We are delighted to see Mac advance his career and thank him for all his initiatives while CEO.
"There have been some real highlights under Mac's leadership including the Alumnus and interns programme and some meaningful and successful conferences such as the Pacific Wave."