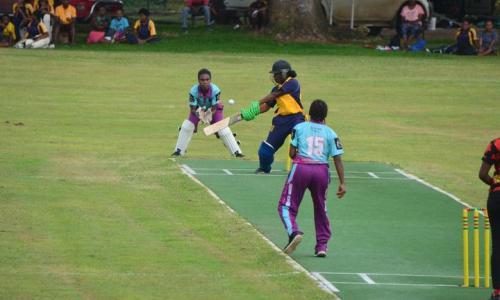 Vanuatu Cricket is hoping to build on a historic occasion in which almost half a million people tuned in around the world to watch two local matches in Port Vila.
Members of the Vanuatu men's national team played a 10 over per side exhibition match on Saturday morning before the Mele Bulls defeated the Powerhouse Sharks in the Women's Super League final.
The games marked the return of live sport to Vanuatu after the government relaxed restrictions imposed in response to Covid-19, and were streamed live on Facebook by local broadcaster VBTC.
Vanuatu Cricket CEO Shane Deitz said, with most sport around the world at a stand-still because of the coronavirus, they decided to give people something to watch instead of endless repeats of Friends and Seinfeld.
"It all happened pretty quickly so we didn't really get time to sit back and look to see what we were doing – just sort of one thing led to another led to another – and next minute we were out there and TV camera were there and the guys played first and the girls after."
"They had a good crowd in and everything seemed to go really well. VBTC, the local broadcasters: the cameraman had never seen cricket before yet alone filmed it so they did an amazing job," he said.
Within 48 hours of the games ending, the Facebook stream had already been viewed by 450,000 thousand people from all over the world and Deitz said the response has been incredible.
"We got a lot of messages non-stop all day and since and on Twitter and all the other social media outlets."
"I think from looking at those figures it was all pretty big and a lot of people tuned in…most people were pretty positive and initial thoughts were just to break the boredom of people watching in isolation around the world, so hopefully we did that – that was the main reason we did it initially – and hopefully we can do a little bit more for everybody."
International media have also embraced Vanuatu Cricket's time in the global sun, with an Associated Press story on the matches published by the Sydney Morning Herald, Stuff in New Zealand, Business Mirror in the Philippines and even "The Gray Lady" in the United States
"The New York Times ran a story and we saw [it published in] Spain and Italy the major newspapers, Portugal – all over the place was having this story about little Vanuatu Cricket which was just amazing."
"Well it is a good story and hopefully everyone was happy with what we delivered and enjoyed what we did."
While international borders remain closed for now, Shane Deitz is hopeful that Vanuatu Cricket's meteoric rise can help boost visitor numbers when normality resumes.
"It's a chance to showcase it to the world and we really want to push cricket tourism and get our facility up to a good standard, which I'm sure it looked like that during the telecast."
"Now hopefully we will get more teams: pub teams, first class teams from New Zealand, Australia – come on over and tour Vanuatu and experience what the country has to offer and then some good cricket to boot, which I think we've proved we can offer."
International tournaments featuring the Vanuatu men's and women's national teams in Malaysia were postponed last month because of the coronavirus pandemic but have been tentatively rescheduled for later in the year
Vanuatu Cricket have 17 contracted men's players, while Shane Deitz said they hope to be in a position to offer contracts to members of their women's team for the first time later this year.
But he admits critical funding and the prospect of international match-play remains up in the air.
"It looks like we can guarantee everyone until the end of May the same contract and payments and then we're not sure how the ICC funding will go in the future, which is probably 90 percent or a bit more of our income through the ICC, so we're all relying on them."
"If the [Men's T20] World Cup goes ahead later this year I'm sure that's probably a good thing for the ICC coffers so fingers crossed that can go ahead. So, I'm probably like everyone else around the world, I've just got to wait and see."
Source: RNZ