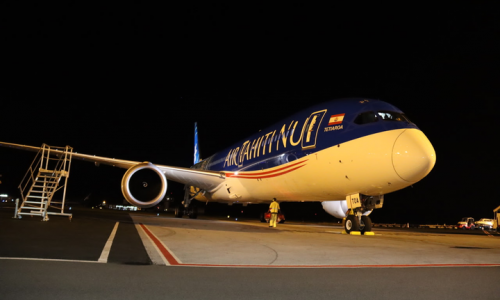 Another 202 people have been flown to French Polynesia on a French government-sponsored relief flight from Paris – the seventh such flight since the Covid-19 related shutdown of air services.
The French High Commission said the Air Tahiti Nui plane carried patients who had completed their care in France, students and French public servants.
All travellers had tested negative for the coronavirus before leaving France and are obliged to be isolated for two weeks after their arrival.
These weekly flights will be followed by the resumption of scheduled air travel in early July when Air France and Air Tahiti Nui restore the Paris to Papeete link.
Until mid-July arriving passengers will need to isolate for seven days.
After that date, people testing Covid-19 negative are allowed to visit French Polynesia without requiring to be quarantined in an effort to revive international tourism.
Meanwhile the tourism minister Nicole Bouteau has held an online discussion with regional leaders about the possibility of creating a Pacific bubble.
The talks also involved the governor of Hawaii David Ige and the New Zealand deputy prime minister Winston Peters.
There have been calls from Covid-19-free Pacific destinations for such a bubble to be formed to boost economies badly hit by the collapse of global tourism.
The New Zealand government said its priority was to set up a bubble with Australia, which however keeps recording new infections every day.
Source: RNZ