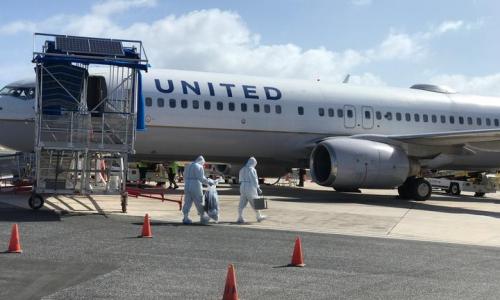 The Marshall Islands has extended its ban on incoming travellers to 5 July, but repatriated nine Marshallese stranded in Pohnpei and allowed the first group of five essential workers to return to the US Army missile testing range at Kwajalein Atoll.
These two groups were the subject of Covid-19 testing prior to departing Pohnpei and Honolulu, and are undergoing a two-week quarantine with multiple tests prior to release.
Kwajalein Army base Commander Jeremy Bartel told officials in Majuro and Ebeye islands earlier this month that he had over 250 base personnel who were needed for normal operations of the facility but were stranded in the United States by the travel ban.
He received approval last week to bring in three small groups of workers in June, with others expected to follow.
The government was also looking at the possibility of repatriating hundreds of stranded islanders in the US, Fiji, Philippines, Guam and elsewhere, following Covid-19 testing and quarantine protocols.
"On repatriation of our citizens returning home from Covid-19 affected countries, we have initiated discussions with the State of Hawaii on what these arrangements and protocols will look like," said the government's Chief Secretary, Kino Kabua.
"This includes a mandatory 14-day quarantine in a proper quarantine centre in Honolulu prior to boarding the plane (for the Marshall Islands).
"For those coming via Guam, we have yet to initiate discussions with the proper offices but will do so."
The government ban on inbound travel has been in place since 8 March, an action that most see as the reason the western Pacific nation had remained free of the coronavirus to date.
The one international flight for June was now scheduled by United Airlines for 17-18 June, connecting Majuro and Kwajalein with Honolulu and Guam.
The Marshall Islands government last week endorsed a $US42 million economic response plan for the Covid-19 coronavirus.
Over 90 percent of the funding for the response plan is donor-provided, with the Asian Development Bank accounting for nearly half with a contribution of $20.5 million. A total of $6 million is set aside for economic relief, and another $6.7 million is for recovery.
The Marshall Islands, like other US-affiliated islands in the region, was also eligible for US CARES Act unemployment benefits.
No economic relief had yet been provided, either for workers unemployed by the effect of Covid-19 on the local economy, or businesses that have lost income.
At a public hearing last week, Enewetak MP Jack Ading asked government officials, "Regarding that $6 million for economic relief, when are you thinking to roll it out?"
He pointed out there were businesses that were having a hard time and some of them had let go of workers because they could not afford to pay them.
Government officials said they hoped to start getting relief funds out to workers and businesses before the end of June.
A total of 157 Marshallese stranded by the Marshall Islands border closure in March had been approved to receive a $500 ex gratia payment from the government, according to the Chief Secretary.
Source: RNZ