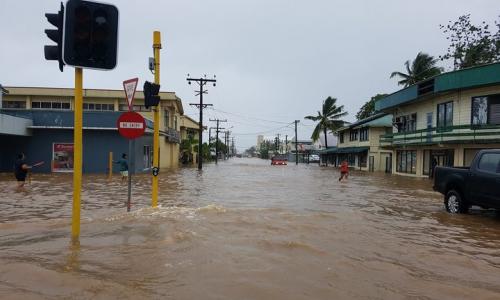 Some parts of Samoa are still under water following Tropical Cyclone Gita as emergency services struggle to clear roads and put back power on.
Cyclone Gita wrought significant damage in both Samoa and American Samoa.
Niue was spared the full force of Gita when it curved around Niue Saturday night.
The Samoa government announced that schools will be closed for the next few days because of the flood major damage caused by Gita.
Our correspondent, Autagavaia Tipi Autagavaia, said health officials have also issued warnings.
"The health [advice] on the national radio is giving out all the notices to the people, to make sure they boil all the water, make sure they clean up those areas where mosquitoes can easily lay eggs because we are still on advice from the health [ministry] on the dengue."
Dengue fever has been an ongoing issue in Samoa for the last few months.
Autagavaia said it could take some months for Samoa to clean-up the destruction left by Tropical Cyclone Gita.
"Government schools will be closed for two days and then back on Wednesday," he said.
"The Catholic schools, mainly the St Mary's that was really badly affected by flooding, it will be closed for the whole of this week, as well as one of the private schools that belongs to the Baptist church.
"That school that is located close to the Vaisigano river, it's going to close for the whole week because the whole playground and the ground level of the school was flooded," Autagavaia said.
Source: RadioNZ