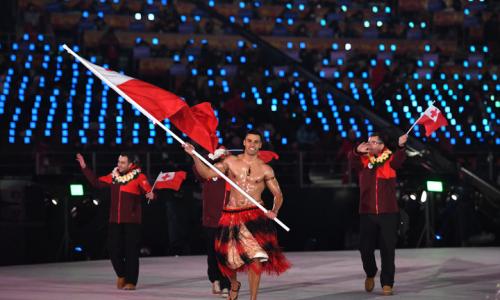 Tonga's sole representative at the Winter Olympics is not feeling any added pressure to perform in Pyeongchang.
Pita Taufatofua will compete in the men's 15 km freestyle in cross-country skiing on Friday, little over a year after putting on a pair of skis for the first time.
The 34 year old, who represented Tonga in taekwondo at the Rio Summer Olympics in 2016, only confirmed his qualification three weeks ago and said it has taken a lot of hard work and sacrifice to make it to South Korea.
"I'll never be 100 percent ready, I don't think anyone ever is," he said.
"I've got 12 weeks on snow in my life and with that 12 weeks I managed to qualify so all the pressure's off me, to be honest.
"My goal was to qualify and to see if I could actually get through and I did. I don't have the same expectations that everyone else has to win or anything, I'm just really really happy to be here and I guess very blessed as well to have gotten through to this stage."
The Brisbane-born double Olympian said he has received a warm welcome from his fellow athletes.
"It took me a year but there's also years and years worth of athletic performance behind that as well just to get to that stage, even though it wasn't skiing, so it's not coming from completely nothing," he said.
"All the other athletes have just been positive – it's a good story but also they understand the struggles that I went through just to get to this stage as well."
Despite being a newcomer to winter sports Pita Taufatofua said he has nothing to prove.
"No, I've already earnt my place. I mean I had five races under 300 points so that was the pressure for me, to get five under 300, which I found out was actually very very hard," he said.
"But (in terms of) results there's only going to be one person who gets a gold, one who gets a silver, one who gets a bronze and there will be another I think 80 or so who don't, so I'll probably be in that 80 somewhere."
Pita Taufatofua is the second Tongan athlete to compete at the Winter Olympics and said he was also representing all Pacific Island nations who were unable to be present in South Korea.
"I'm going out there as a Tongan but I'm representing everyone that can't be there as well: to all the islanders, to all the Tongans, to all the Samoans, to all the Maoris, to all the Polynesians, Melanesians, Micronesians," he said.
"So I'm representing all of them and I'm just happy to be able to get out there and to do that and my goal is to make sure that I do that the best I can.
"When I race it will be the best performance of me. That's what important to me is that it's always about stepping up your game, always improving upon yourself."
Source: RadioNZ