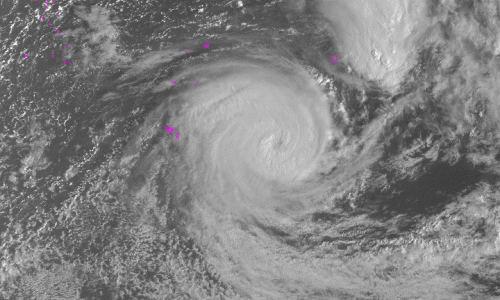 The Red Cross says several houses have already been destroyed in Tonga, with the full force of Cyclone Gita yet to hit.
The storm was expected to be upgraded to a category five in the early hours of the morning.
It was moving west northwest and expected to move slowly away from Tonga through the night and head towards the southern part of Fiji.
Tonga's MET office has suffered structural damage so Fiji weather forecasters had taken over its duties issuing warnings for the region.
Authorities have switched off the electricity for about 75,000 residents who live on the island.
The Tongan Red Cross communications advisor Poli Kefu said there were more than 60 people hunkered down in its office.
He said it was very dark outside and everyone was feeling scared.
Tonga Police urged people to stay close to loved ones.
"Prayers going out to everyone in Tonga. The wind is intensifying and growing louder, stronger and scarier."
TVNZ's Pacific correspondent Barbara Dreaver, in Nuku'alofa, said rain was pouring "sideways" into the second floor of her hotel room, which was shaking, and she could "hear the screech of metal flying outside".
Earlier, she reported that disaster management officials said it would be "very, very grim" and many residents did not seem to realise how serious the situation was.
"Officials are saying this is actually going to be the worst cyclone on record in Tonga," she said.
The houses were not built to last.
"They're certainly not structurally sound… A lot of them are shacks…There's sort of been an air of complacency amongst many because it's been a little bit of a blow, a bit of rain, but it's fairly calm out there," she said.
Many businesses were only insured up to a category three, she said, and many were wooden structures.
"Tongatapu is as flat as a pancake. There is no high ground and of the things that they are expecting is terrible, terrible storm surges."
Matangi Tonga managing editor Mary Fonua, who is also in Nuku'alofa, had boarded up the northern side of the house and were prepared for the roof to go.
"Everybody is very concerned, too, because there are not a lot of places to shelter," she said.
Earlier, Tonga's Scenic Hotel general manager Katie Silcock said everyone in the capital Nuku'alofa was frantically getting supplies.
"Obviously the island being closed on a Sunday out of respect for the church … none of the preparation was able to be made yesterday, but I imagine in the next few hours everyone will be locking down."
The hotel – 3km from the coast – is on the highest point of the main island of Tongatapu, and acts as an emergency evacuation point.
Ms Silcock said there were 130 mainly American, Australian and New Zealand guests staying at the hotel.
"We obviously need to look after the people in the hotel, but being an emergency evacuation centre we're also thinking about the wider community and all our staff's family."
Source: RadioNZ