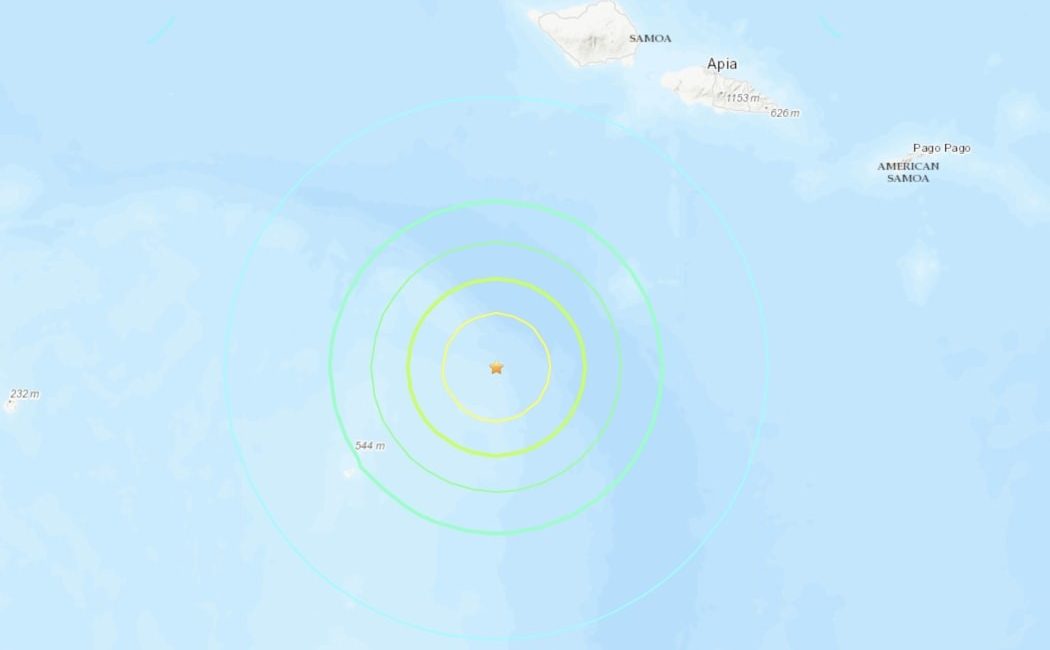 More earthquakes have struck following the large tremor south of Samoa on Monday.
The 6.7 magnitude earthquake struck about 8.30am Monday in Samoa/7.30am Sunday in American Samoa, prompting the Samoan government to urge everyone living on low-lying coastal areas to stay away from beach areas. It also said the public are advised to refrain from visiting coastal areas until a cancellation was issued.
The US Geological Survey reports the shake happened south-east of Samoa at a depth of 36km about 8.30am local time.
Since then four more quakes have been recorded in the same area, the largest a 5.6 tremor 108km northeast of Hihifo, Tonga. It was at a depth of 35km, the USGS said.
RNZ Pacific correspondent in American Samoa Monica Miller said she was at home when the magnitiude 6.7 quake struck.
"I definitely felt that quake, it was close to 7.30am on a Sunday morning. I was actually ironing to get ready to go to Mass and I felt a tremor and thought, maybe it's just some movement in the house and then it just shook. I felt it went on for about five to six seconds, and yes, that was a strong one."
Miller said locals were beginning to post on social media that it was a big one.
Confusion over sirens
An RNZ Pacific correspondent in Apia, Autagavaia Tipi Autagavaia, said there was some panic when the quake struck.
He said his neighbour ran over asking him to take he and his family inland to higher ground.
Autagavaia said he spoke to a few people following the quake, and workers at the local supermarket said they were waiting for the tsunami and flood warning siren to sound following the quake.
There are seven siren spots in the capital Apia and people were confused about whether they should wait for them to sound or just move to higher ground, he said.
Autagavaia said today's earthquake was so strong it reminded him of the 2009 quake.
That 8.3-magnitude quake generated a devastating tsunami that struck the Samoas and Tonga, and killed 186 people died.
Source: RNZ