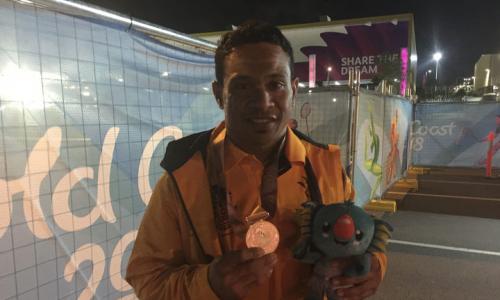 Papua New Guinea's Morea Baru has won the Pacific's first medal of the Commonwealth Games.
But the weightlifter said a silver medal on the Gold Coast fell below his expectations.
Baru lifted a combined total of 286kgs, two kilograms shy of the gold medallist Muhamad Bidin from Malaysia.
The 27-year-old fell short with a final attempt at 163kg in the clean and jerk, which would have put him back in front.
"The last lift, I think that's the pressure, the real pressure…but all the lifts I didn't feel that pressure. Only the last lift I felt that way."
Morea Baru finished 10th at his first Commonwealth Games in Delhi and one spot shy of the podium in Glasgow four years ago.
But he admitted his first Commonwealth Games medal was bitter-sweet.
"I think I'm going to regret this for the rest of my life but I will keep on going and do my best to win gold for the next Games."
Baru's medal leaves Papua New Guinea 10th equal on the medal table at the games.
Fiji's Manueli Tulo finished fourth in the men's 56kg division, while PNG's Thelma Toua was also denied a podium finish in the women's 48kg division, despite lifting the same total weight as the bronze medallist.
SOURCE: Radio New Zealand