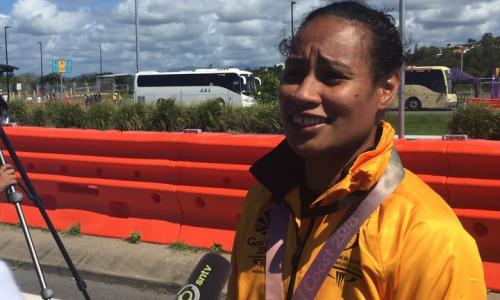 Papua New Guinea have won a second silver medal in weightlifting at the Commonwealth Games.
Dika Toua was unable to repeat her gold medal performance from four years ago, lifting a total of 182kg in the women's 53kg division, to finish 10kg adrift of India's Sanjita Chanu Khumukcham.
"It's disappointing because I wanted to go for back to back gold medals but it happens, competition gets tougher and you just have to do what you have to do on the platform to get what you want to," she said.
"I did try my all but unfortunately I didn't get what I came here for, but a silver medal is enough for me."
Dika Toua failed to complete her final two attempts in the clean and jerk and says, while she approached the bar with confidence, 113kg proved to be a lift too far.
"The last time I did it was 2005 so that's been a while since I've done that, and I've never done it training as well, so what I went up for (in the final clean and jerk attempt) my coach (paul Coffa from the Oceania Weightlifting Institute) reckons that was very gutsy and very professional and very everything because I needed that to win."
The 33-year-old now has three Commonwealth Games medals, including the silver won in the same category back in 2006.
SOURCE:  Radio New Zealand