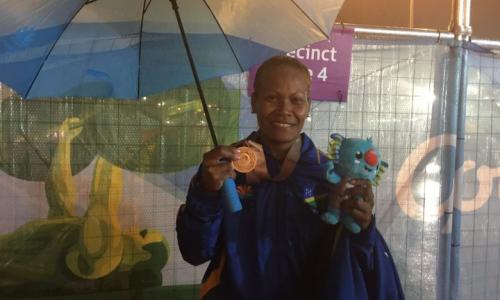 Solomon Islands won their first ever Commonwealth Games medal on a historic night on the Gold Coast.
Weightlifter Jenly Wini lifted 189kg to secure bronze in the women's 58kg division.
The 34 year-old is competing in her third Commonwealth Games and said to finally make it onto the podium means a lot.
"I'm happy, I feel happy about this. It's history so I'm proud to win this bronze medal…I felt confidence to compete today and I knew it would be tough today but I just give all my best."
"It's the confidence I have, like each Games I get more experience and confidence to do my lifting, so I learn from all my mistakes each competition," she said.
Australia's Tia-Clair Toomey won the gold medal with a total lift of 201kg, 1kg clear of Tali Darsigny from Canada.  Jenly Wini had one final chance to push up the rankings before opting to forgo her final attempt in the clean and jerk. "My coaches pulled me out because I already get the bronze medal and it's enough and I'm happy."
President of the Solomon Islands National Olympic Committee, Martin Rara, said Jenly Wini's bronze medal is a massive achievement and well deserved.  "Her preparation towards these Games on the Gold Coast is really injury free. She's really putting her best into training and what she achieved this evening is really a fine reward for hard work," he said.
Martin Rara expects the country's first ever Commonwealth Games medal will benefit all sports in the country.  "Weightlifting from today on will no longer be a sport that is a minority to the sporting community. Before Jenly came weightlifting was just regarded as a small minor sport but it's a medal-winning sport…for sports in Solomon Islands it's for the first time that the government will start to see and refocus the attention to sport."
SOURCE: Radio New Zealand