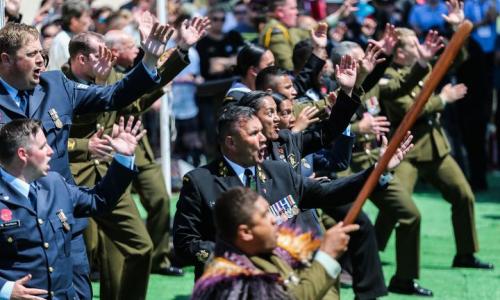 After last year's cancellation due to Covid-19, New Zealand will warmly welcome back its Anzac Day services tomorrow.
The cancellation was the first since the day was marked in the early 1900s.
The Minister for Pacific Peoples Aupito William Sio said he was pleased and relieved that New Zealand could again honour the huge sacrifices of the country's soldiers including the Pacific troops.
Aupito said last year's cancellation of Anzac Day impacted on the defence force community the most.
He said attending the services was how the public could pay tribute to the fallen soldiers and surviving veterans.
"It's not about glorifying war," he said. "It's about recognising the values and sacrifices not just of Pasifika people but of Maori and Pakeha who (at the time) gave their lives for something that they believed in.
"They made sure that future generations wouldn't suffer the sufferings that they suffered."
The theme of this year's Anzac Day and Poppy Day appeal is 'Service and Sacrifice', acknowledging women and the military.
Aupito would speak at tomorrow's remembrance day in South Auckland and said he would be highlighting stories of Pacific people who played a significant part in World War I and II.
"It's the story that most New Zealanders would not be aware of," the minister said.
"Often we talk about Pacific people who were part of the Maori battalion or Pacific people without knowing exactly who were they and what contributions did they make.
"This follows on from the Pacific War Memorial that we launched earlier in the month."
Aupito said New Zealand needs to begin the process of telling the stories of Pacfic people's contribution to New Zealand, to the ANZAC contribution particularly during WWI and WWII.
There were 500 Pacific and 150 Niueans. "We also know now that there were contributions from Samoa, Tonga, Fiji, Tuvalu etc.
"Pacific people did make a contribution," Aupito said.
He said it was a valuable contribution.
Resource: RNZ