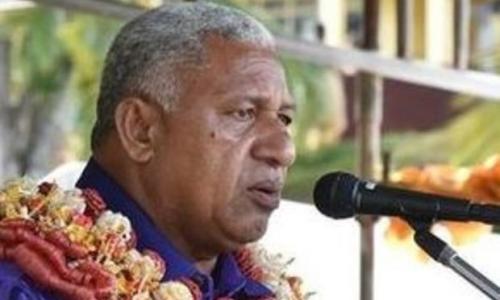 New Zealand is "highly likely" to host Fijian Prime Minister Frank Bainimarama for a state visit the week after next, Prime Minister John Key says.
Mr Bainimarama will be in New Zealand to attend an All Blacks match, and Mr Key says they will probably have a formal meeting as well.
Mr Key visited Fiji in June, the first visit by a New Zealand prime minister in a decade.
During a state banquet, the two leaders disagreed on a ban on some New Zealand journalists, and there were testy exchanges some months later over the arrest of an opposition MP in Fiji.
In September Mr Key said he was keeping a watch on the situation in Fiji and warned the government not to do anything "silly" after a Fijian MP and other political figures were arrested for holding a meeting without a permit.
Mr Bainimarama accused New Zealand of being "disrespectful" and "condescending", and having double standards on human rights.
However, Mr Key said New Zealand was always seeking to improve relations with Fiji, and was trying to be "the bigger person" in the relationship.
SOURCE: RADIO NEW ZEALAND