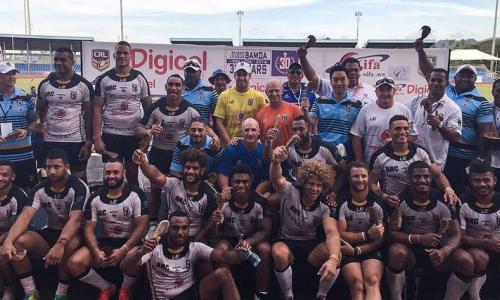 Fiji rugby league coach Mick Potter has praised his side's defensive effort after the Bati recovered from sizeable deficit to defeat Toa Samoa 20-18 in Apia at the weekend.
Bulldogs prop Sam Kasiano inspired Samoa to a fast start, barging over for the opening try after just four minutes.
Lively Warriors winger Ken Maumalo crossed on the right hand side to extend the home side's lead and bagged his second four minutes later to give the Toa a commanding 18-0 lead.
The Fiji Bati celebrate beating Toa Samoa in Apia.
Mick Potter said his side turned over too much possession in the opening quarter, forcing them to defend their line.
"We were so worried about them spreading the ball, instead of covering our ruck a little bit more we perhaps just overworked to expose our inside shoulders a little but…they were just a little bit too enthusiastic expecting the ball was going to go wide and you can't show space for Kasiano and a couple of other players," he said.
"They probably caught us on the back foot a little bit. We came up with a couple of poor plays and they raced away to an 18-0 start. Then I think we composed ourselves a little bit and got back into the game with some good defence and pretty slick attack."
Following a short drinks break the Bati finally got on the scoreboard, with Bulldogs youngster Marcello Montoya finishing off an overlap out wide.
Veteran hooker James Storer then finished off a phase started by a Montoya break, fighting his way through a host of Samoan defenders, before Manly centre Brayden Wiliame got on the end of a deft grubber kick to cut the deficit to just two points at half-time.
"The message at half-time was again not too dissimilar to the first half – was if we control possession in the hot weather we will potentially get the better of them," Potter said.
"The message they were talking about on the field but it just seemed to fall on deaf ears at the crucial times."
A 90-metre intercept try to Bulldogs winger Tyrone Phillips midway through the second half proved the difference in the first official test match to be played in the Pacific.
Mick Potter said the final forty minutes was a dour affair but his players got what they wanted most, the result.
"We didn't control possession but on the back of that what we did do was defend with a lot of grit, determination and it's a credit to the players on how hard they worked for each other. I'm really pleased with that aspect – they've got some really good team spirit there."
Mick Potter said playing the match in Samoa was a fantastic experience and they would love to something similar happen in Fiji in future.
This weekend's historic rugby league test between Toa Samoa and the Fiji Bati in Apia shapes as a big opportunity for fringe players to put themselves in the selection frame for next year's World Cup.
Toa Samoa have called up six new caps: New Zealand Warriors quartet Mason Lino, Ken Maumalo, James Gavet and Bunty Afoa, Castleford Tigers back Denny Solomona and David Nofoaluma from Wests Tigers.
Meanwhile, Sam Lisone and Tim Lafai are back in blue after last representing the Toa in 2015 and 2014 respectively.
New Zealand Warriors quartet Mason Lino, Ken Maumalo, James Gavet and Bunty Afoa have all been selected in the Toa Samoa squad for the first time.
Rugby League Samoa President Tagaloa Faafouina Su'a said interest in the match was high.
"Very significant, not only for Samoa but for the Asia/Pacific region as well because this is the first ever sanctioned full international test match in the Asia/Pacific and now it's good to have it in Samoa," he said.
"People are excited, it's just a matter of come Saturday. The results will all depend on the coaches and the players but that's something that's beyond our control. I think overall the people here are looking forward to the game.
"[There is] quite a lot of supporters from Australia and New Zealand here in Samoa so the influx of tourists and many other supporters started to arrive since last weekend."
"You need to give the opportunity to other potential players that you feel and believe that they can carry the Samoan flag and the jersey in the next few more years."
The home side are without a host of front-line players including Sam Tagataese, Antonio Winterstein and Frank Pritchard, while Dally M centre of the year recipient Joey Leilua is injured.
But Tagaloa Faafouina Su'a said there was confidence in the squad selected by Toa coach Matt Parish.
"You've got to trust whoever you select, no matter what. Those are the chosen ones to play the game and to play for your country and it's footy, you cannot rely on players every now and then because injuries is inevitable and other commitments players have," he said.
"All the players they understand how the selection process is going and also (it is) part of succession planning going forward."
SOURCE: RADIO NEW ZEALAND