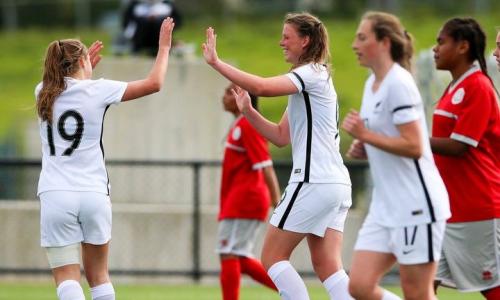 New Zealand have had plenty to celebrate so far at the OFC U19 Championship.  They are 90 minutes away from sealing qualification to next year's FIFA Under 20 Women's World Cup, while Papua New Guinea lead the chasing pack going into the penultimate round of matches at the OFC Under 19 Championships in Auckland.
The hosts have maximum points after thrashing PNG 12-0, Fiji 9-1 and New Caledonia 12-0.That's given then a sizeable goal difference of 32 and with the other five teams all in arrears with two rounds to play, another win against Samoa this morning would effectively seal their ticket to France.
Head coach Gareth Turnbull is confident about securing another important win.
"We're expecting to get three points if we're honest," he said.
"We need more opportunities on our final acts, in our finishing and also to take a step forward in our physical game."
Despite their winless start, Samoa have only conceded four goals in three games and coach Martin Tamasese is looking forward to giving New Zealand a good run for their money.
"We're prepared for our game against New Zealand. We have a few things we need to work on but we still want to compete with them and have the least goals scored against us. We don't want them scoring more goals against us than other teams."
Papua New Guinea are three points behind the hosts in second place and fresh from emphatic wins against 7-0 and 4-1 victories against New Caledonia and Tonga.
Head coach Rachel Wadunah said they need another big result against a difficult Fijian side.
"We will not underestimate Fiji because Fiji is very good – they had a good game against New Zealand as well and they were able to score against Fiji as well," she said.
"So they are looking forward to it, they're excited but they say it won't be an easy game."
"The biggest threat is they're very fast and they're very strong on the ball and they play until the last dying whistle," said Wadunah.
"If they go down one or two (goals) they still make sure they play until the last dying whistle."
SOURCE:  RADIO NZ FULL ARTICLE