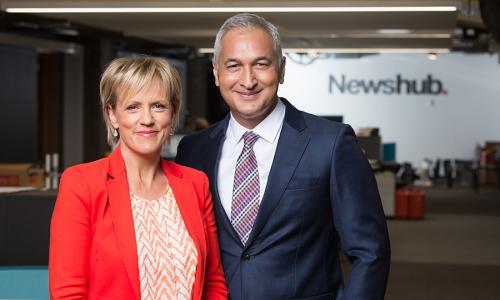 MediaWorks' multi-platform TV, radio and digital news service, Newshub is taking news to another level.
The service will provide the latest news and in-depth analysis, with a dedicated, state-of-the-art app and website and TV and radio news bulletins across MediaWorks' channels – as well as fuelling news content across other programmes such as Paul Henry.
Newshub Live at 6pm is presented by Mike McRoberts and Hilary Barry who celebrated 11 years of presenting the news in February.
Mike McRoberts believes the integration of MediaWorks' award-winning 3News and RadioLIVE teams will be important.
"Journalism is all about communities, and with our integration our 'community' has just got a lot wider. I'm hoping that will be reflected in the diversity and depth of our reporting.
"People will notice a significant difference when we have the next big breaking news event. Integration means we can throw our full resources into these types of stories and provide New Zealanders with the news and information often so vital to the affected communities."
Newshub Late is presented by Sam Hayes and Newshub Midday will be presented by Jeff McTainsh.  The weekend television news will be presented by Melissa Davies and Tom McRae.
Operating 24/7, Newshub will provide audiences across all platforms with stories and information relevant to them, with a strong emphasis on digital, servicing web, mobile devices and social media.
"Newshub combines the power of our radio, TV and digital newsrooms and is focused on providing tailored content to all platforms. Specialist teams will work on breaking stories in the areas of most interest to New Zealanders. We won't just be telling you what is happening, but why it is happening," says Mark Jennings.