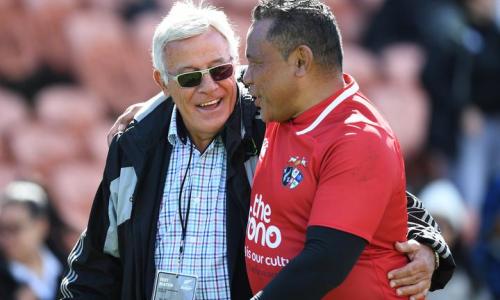 Two Pacific Islands teams are set to join a new-look Super Rugby competition in 2022, which will return to its original 12-team format.
The Moana Pasifika bid, backed by former All Blacks Sir Bryan Williams and Sir Michael Jones, is understood to have the support of New Zealand Rugby while the Fiji Rugby Union has been tasked with basing a franchise out of Suva.
The two Pacific Islands teams would join the existing five teams from New Zealand and five from Australia – with the Western Force returning in a revamped competition.
Pacific Rugby Players CEO Aayden Clarke said while there was still some detail to work through it's looking very promising.
"From our perspective that's utopia, that's the ultimate result is to have two teams involved, given the famine that we've had in the past," he said.
However he conceded there was a lot of work to do.
"That's alright, we'll just bite it off and chew it and everybody muck in. For the right cause it's not insurmountable and we will be able to get everybody there.
"I was on a call with the NZR last night around that and it's looking really encouraging and if we get this across the line New Zealand, Australia, all the stakeholders, Players Associations and the Unions, it's going to be a really significant moment for Pacific Island Rugby.
Pacific Rugby Players had been a strong advocate for basing a team in the Pacific Islands and Clarke believed the two favoured bids were the best of both worlds.
"Having one there with Fiji, who've got a strong player base and very good high performance systems already set up," he said.
"And if there's to be Moana Pasifika based out of initially New Zealand, which as you expect could possibly accommodate for a lot of Samoan and Tongan players, it's sort of two different systems being set up and being ready to go for 2022 but it's very much achievable and they'll be very strong teams."
There was disappointment and frustration in the rugby community when New Zealand Rugby announced last month that a Pacific Island side would not be included in the 2021 Super Rugby competition.
The latest developments suggested rival bids from Kanaloa Hawaii and the Asia Pacific Dragons were now dead in the water, although Pacific Rugby Players said it would support and work alongside whichever bid got across the line.
"I feel like we've just arrive at the start-line now. We've been through a process to get here but there's a lot of work that's going to have to happen, in terms of setting up organisations, high performance appointments before you even get to talking about coaches and playing rosters.
"That's got to happen pretty quickly and I know the key to that is going to be the collaborative approach."
The regional players body said it was crucial that any Pacific Island Super Rugby franchise worked closely with the national unions in Fiji, Samoa and Tonga.
"From now we'll keep our finger on the pulse and make sure that at every step these two organisations [offer genuine engagement]," Clarke explained.
"Obviously Fiji will a very strong inclination anyway but working alongside World Rugby and making sure that they dovetail into the high performance plans so we end up with a better Fiji, Samoa and Tonga at the next World Cup.
"That's exactly what these Super Rugby teams will play a role in…and the appetite to make it all work is shared across the board."
Source: RNZ