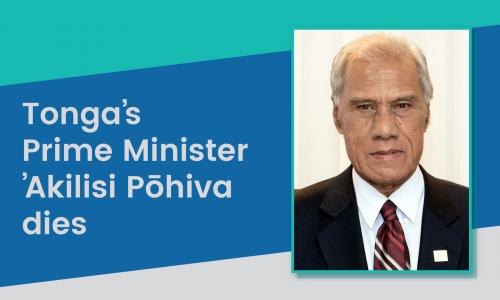 Pacific leaders are paying tribute to the late Tongan prime minister, 'Akilisi Pōhiva, who died on Thursday.
The 78-year-old died in an Auckland hospital having been evacuated from Tonga on Wednesday with pneumonia.
'A beacon of democracy': RNZ's obituary for Mr Pohiva, who died on Thursday
New Zealand Prime Minister Jacinda Ardern said Mr Pōhiva would be remembered for his lifelong commitment to championing democracy.
He was also a powerful advocate for Pacific regionalism, she said.
Listen to more on Dateline Pacific duration 4′ :54″
The secretary general of the Pacific Islands Forum, Dame Meg Taylor, said Mr Pōhiva was a kind and principled man and a compelling advocate for freedom.
On social media other Pacific leaders also paid tribute including Australia's prime minister.
Scott Morrison tweeted that Mr Pōhiva was a passionate advocate for his people and the Pacific family.
Scott Morrison✔@ScottMorrisonMP

Terribly saddened to hear of the passing of Tongan Prime Minister, the Hon. 'Akilisi Pohiva. He was a passionate advocate for his people, for his beloved Tonga & our Pacific family. Jenny & I send our condolences to his family, as well as the Government and the people of Tonga.
Solomon Islands Prime Minister, Manasseh Sogavare, said he was always impressed with the depth of experience and the passion with which Mr Pōhiva spoke on issues dear to the "Blue Pacific continent", such as climate change, regional security, sustainable development and human rights.
Mr Sogavare described Mr Pōhiva as a dear friend, a colleague, a great Pacific leader and an icon for Pacific democracy.
He also paid tribute to Mr Pōhiva's stance on human rights issues in West Papua.
The Cook Islands Prime Minister, Henry Puna, said Mr Pōhiva was a man who pioneered change and led the movement for democracy in Tonga, with his legacy being that of a champion for change for over 30 years.
The United Liberation Movement for West Papua has also conveyed condolences to the people of Tonga on the passing of Mr Pōhiva.
At last month's Pacific Forum leaders summit in Tuvalu, Mr Pōhiva urged the region to stand in solidarity with West Papuans in their bid for independence.
The Liberation Movement chair, Benny Wenda, said the Tongan leader would be remembered as one of the Pacific's great statesmen.
Mr Wenda said West Papuans expressed their deepest and most heartfelt respect for the Tongan leader's "brave words and his firm conviction".
Fiji's prime minister Frank Bainimarama tweeted that Mr Pōhiva inspired the world with raw emotion at last month's Forum summit in Tuvalu.
Mr Bainimarama said despite poor health, Mr Pōhiva attended the summit in recognition of the urgent need for climate action.
He said continuing this fight would honour Mr Pōhiva's legacy.
I mourn the passing of Tongan PM ʻAkilisi Pōhiva, who inspired the world with raw emotion at last month's Pacific Islands Forum in Tuvalu (which, despite his health, he attended in recognition of the urgency of climate action). We must honour his legacy by continuing this fight.
Cabinet to discuss funeral arrangements
Tonga's cabinet was to meet today to discuss arrangements for the funeral of 'Akilisi Pōhiva.
The cabinet meeting will be led by Mr Pōhiva's deputy, Semisi Sika, who has taken over as acting prime minister.
A government spokesperson said they'll discuss issues including when Mr Pōhiva's body will return to Tonga and how the government will function in his absence.
They will also begin planning for Mr Pōhiva's state funeral.
Tonga's parliament was indefinitely adjourned after Mr Pōhiva's death yesterday morning.