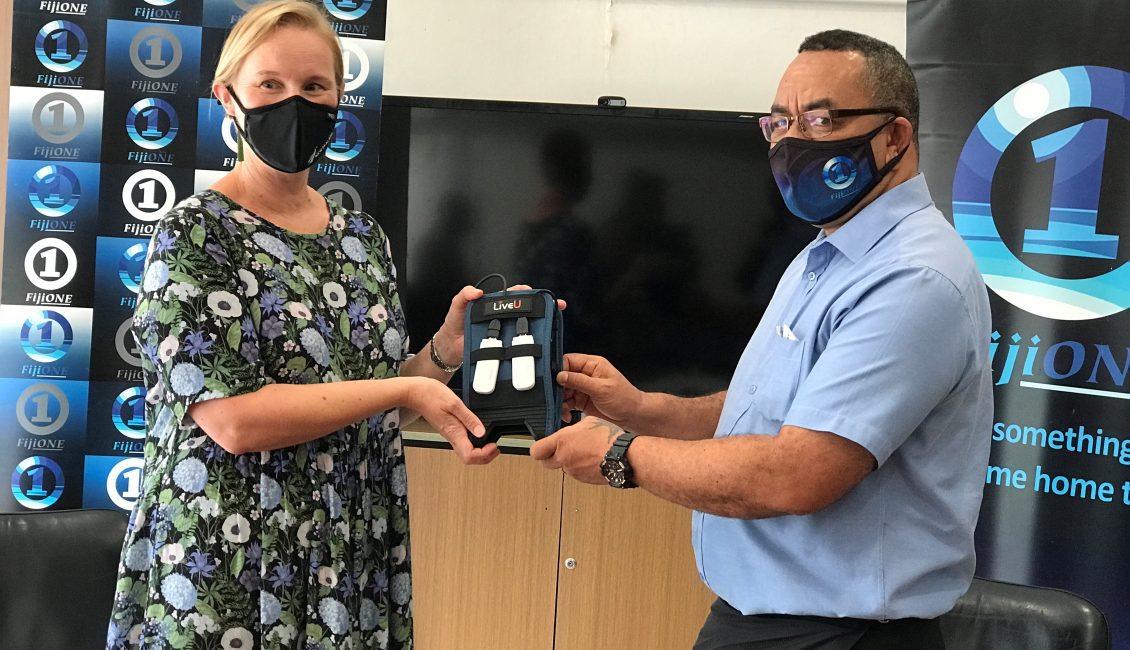 Fiji has become the latest Pacific nation to receive the capability to broadcast live content to New Zealand which can then be sent back out across the Pacific.
MaiTV, Fiji TV and Fiji Broadcasting Corporation have received LiveU broadcasting equipment that opens a wide range of opportunities for sharing content and stories with the Pacific and beyond.
"This gives great opportunities for content that is in, and of, the region to be travelling around the region, so that people are telling their own stories in the way that they want to be told" says Charlotte Darlow, New Zealand High Commissioner to Fiji.
"This has been a dream for most broadcasters in the past decade." says Sitiveni Halofaki, General Manager of Fiji Television Limited "Now is the opportunity for us, for Fiji One, to share contents from Fiji to all the broadcasters in the Pacific and also to the world. So, we are very very thankful to the New Zealand High Commission for this donation through Pasifika TV"
"Mai TV is delighted to be part of this inspiring vision and initiative to connect and share content between Pacific broadcasters. This is an important delivery that has far reaching positive implications – particularly in this globalized world where Pacific content has been struggling to find its place and showcase itself. Thank you to the team at PCBL for the LiveU units that are making this happen." – MaiTV Director Stanley Simpson.
'FBC is pleased to have received the LIVEU equipment from PCBL. The equipment will enable the FBC News team to cover more live stories from the field, leading up to our general elections later this year. The equipment will also enable connectivity to our Pacific Islands broadcast partners and sharing content that matters to all of us in the Pacific'. – Vinal Raj TV Operations Manager Fijian Broadcasting Corporation
The equipment was given as a continuation of New Zealand's Pacific Broadcasting Initiative, increasing communication and connectivity across the Pacific where broadcasters from 8 countries now have the LiveU equipment: Samoa, Cook Islands, Solomon Islands, Tonga, Vanuatu, Niue, Papua New Guinea and now Fiji.
FOR MORE INFORMATION
Contact: info@pasifikatv.co.nz
CEO: Natasha Meleisea – 027 5777850
ABOUT PACIFIC COOPERATION BROADCASTING LIMITED
Pacific Cooperation Broadcasting Limited (PCBL) was established in April 2015. It is a New Zealand government initiative, that is funded by the Ministry of Foreign Affairs and Trade with the overall aim to build stronger relationships in the Pacific region by supporting the media sector. It provides New Zealand content, equipment and bespoke training opportunities to the region.  Its' Pasifika TV service reaches 24 free-to-air broadcasters across 14 Pacific countries; Cook Islands, Tonga, Fiji, Samoa, Vanuatu, Solomon Islands, Niue, Papua New Guinea, New Caledonia, Nauru, Palau, Kiribati, Tuvalu and American Samoa. New Zealand media partners include Māori Television, Discovery N Prime, TVNZ, SKY, RNZ and Pacific Media Network.