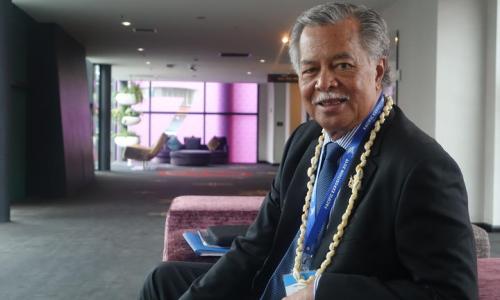 The Cook Islands parliament is sitting to elect a new prime minister, as Henry Puna stands down after a decade in the job.
His deputy and preferred successor, Mark Brown, is likely to be voted in at a vote of confidence this afternoon.
Parliament's public gallery is packed out with flowers and supporters of Mr Puna and Mr Brown.
Puna has resigned from the job to contest for the role of Secretary General of the Pacific Islands Forum.
The 71 year old gave his valedictory speech before relinquishing the post.
Puna said his government had always endeavoured to live up to ideals of unity.
"Rededication, togetherness, oneness, despite our differences. I believe that we have manifested this spirit in many of our achievements."
The outgoing prime minister cited solar energy for the outer islands; the appointment of qualified women as Heads of Ministries; the passage of the Marae Moana Act; and the country's Covid-19 free status as accomplishments.
Puna said it had been an honour to represent the people of Manihiki in the House, on the national stage and as leader of the Cook Islands.
He also paid tribute to leaders of the past including Dr Robert Woonton and Sir Geoffrey Henry, saying they had both prepared the way and offered support in the past.
Puna, who had been prime minister for 10 years, said as he left office he was heartened by the fact the country's international partnerships had doubled during his terms.
"…our place in the world's affairs must be engaged at the levels we have now secured, for our future well-being."
He said the Cook Islands enjoyed formal diplomatic ties with 54 nations.
"Many of those ties with countries such as New Zealand, Australia, Japan, South Korea, India, as well as the European Union, have brought immeasurable benefits, right through to our smallest communities.
"Our graduation last year to a high income country, took effect at the beginning of this year, ironically arriving at a time of considerable progress and advancement, while on the cusp of having to prepare for the hugely negative impacts of the coronavirus pandemic."
He had advice for whomever the new leader would be.
"Leading the nation as one, is the most noble of duties, but one that can also prove to be the most elusive. The decisions you make have far-reaching consequences, and the need for support is as crucial, as it is broad.
"Future goals will depend, on the ability to garner that support – to mould that support, which will come, if the realisation of those benefits changes the lives of people for the better," he said.
Source: RNZ