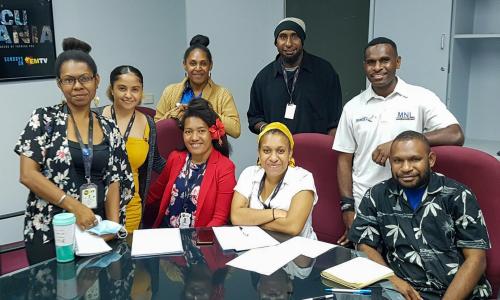 More than 120 journalists from 10 Pacific nations are participating in a new training programme to help the region strengthen their news services.
Broadcasters from Samoa, Cook Islands, Tonga, Niue, Vanuatu, Papua New Guinea, Kiribati, Solomon Islands and Federated States of Micronesia are currently in week 3 of the 10-week training programme.
The Strengthening Media Resilience programme is an initiative of Pacific Cooperation Broadcasting Limited (PCBL) that involves management, news and production training, and Television New Zealand (TVNZ) who design and deliver the news training to 21 broadcast partners in the region.
Lilon Bongmatur from Vanuatu Broadcasting and Television Corporation says her team are enjoying the opportunity to learn from other Pacific broadcasters.
"We love this idea, we are hearing about what each country is facing and how they are coping and dealing with issues," said Bongmatur.
Tiana Haxton from the Cook Islands Television News (CITV) has benefited from the practical elements of the programme, especially learning how to report in a Covid-19 environment.
"While the Cook Islands are still Covid free, discussing ways to be safe while reporting in this current Covid-19 climate and comparing suggestions on how we are currently running our news service was hugely beneficial," said Haxton.
PCBL have been running various versions of this programme with Pacific broadcasters since 2015. The programme involved broadcasters travelling to New Zealand and gaining work experience with various media networks.
PCBL chief executive, Natasha Meleisea said they are committed to supporting broadcasters in the region, especially during a global pandemic.
"The ability to provide online training as an alternative to traditional in-island training or our two-week media exchange placement programmes definitely adds a new dimension to our service," she said.
The programme is led by 1 NEWS' Pacific correspondent Barbara Dreaver and produced by Lee Taylor. 1 NEWS journalists also join the weekly zoom sessions and together they share their working experience with participants.
Esther Pavihi, reporter for Broadcasting Corporation of Niue, said journalists across the region face similar challenges when reporting on local issues, but the experienced duo of Dreaver and Taylor offered guidance on how to navigate these challenges.
"In the first session they [Dreaver and Taylor] were very helpful in sharing tips on how to push through barriers such as access to credible sources or the lack of willing participants, especially non-responsive public officials," said Pavihi.
Haxton said the programme will better prepare the CITV news team in worst case scenarios.
"We are heading into the cyclone season soon and growing the skills in our news team will make us better prepared for when and if something drastic happens, she said.
Meleisea said she's pleased to have partnered with TVNZ to deliver this bespoke training programme and building strong relationships and familiarity is important to the programme.
"Barbara is a familiar face among Pacific broadcasters, they would have either seen her reporting on location for many years, as well as, Pasifika TV rebroadcasts 1 NEWS across the Pacific.
"She is a daughter of the Pacific, a master of her craft and for us, the perfect person to front this initiative," said Meleisea.
As well as learning newsgathering 'tips and tricks', Bongmatur sees the training programme as an opportunity for the broadcasters to work together on issues affecting the region.
"This builds our network with each of these broadcasters and media organisations to impact a positive change in the Pacific on issues such as climate change and Covid-19," said Bongmatur.
Pasifika TV is funded by the New Zealand Ministry of Foreign Affairs and Trade and delivered by PCBL, which has been operating throughout the Pacific region since 2015.