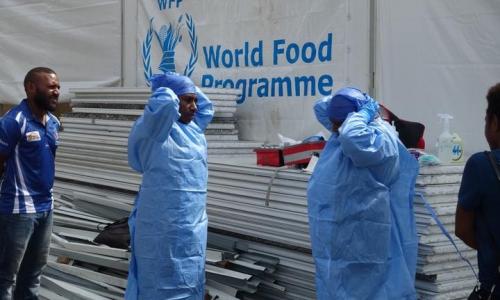 The United Nations is scaling up its support for Papua New Guinea's Covid-19 response.
The UN's resident coordinator in PNG, Gianluca Rampolla, said UN agencies, including the World Health Organisation (WHO), the UN Children's Fund (UNICEF) and the UN Development Project (UNDP), were providing strategic and operational support, as well as essential medical supplies.
The UN had already distributed a batch of Personal Protective Equipment (PPE) across PNG and a further 600,000 units were on the way, Mr Rampolla said.
Thirty ventilators and two Polymerase Chain Reaction machines to test for Covid infections were also en route, he said.
Thirty-four tents for screening and quarantining patients are currently being set up while more medical and lab supplies, 10 mobile quarantine units, ambulances and additional protective equipment are being procured, the coordinator added.
Meanwhile, UN staff have made emergency water and sanitation interventions in 300 vulnerable communities across PNG.
The UN's announcement could ease concern among some health workers who have protested in recent weeks over a lack of resources, protective equipment and training to cope with the pandemic.
A $US20 million contribution to PNG's Covid response, announced this week by the World Bank, could also allay fears.
But could scepticism of the WHO's ability to help PNG be invoked by its loss of funding from the United States?
Mr Rampolla said the WHO was supporting the PNG Department of Health to lead the country's response.
Doubts about the efficacy of the department's public health awareness campaign to prevent Covid-19 have already been raised.
The coordinator was eager to point out, however, the WHO's track record in helping PNG to contain public health emergencies, including the 2018 polio outbreak.
The WHO, in partnership with UNICEF, launched a response that included eight rounds of vaccinations for more than three million children through the deployment of experts to all provinces, Mr Rompolla said.
Then in 2019, the WHO prevented a potential measles outbreak experienced by many Pacific countries by integrating measles and rubella vaccines in the ongoing polio response, he said.
"The same amazing UN team that assisted PNG respond to the 2018 Highlands earthquake and that worked hard to ensure the polio outbreak be stopped in six months, that very same team is here on the frontlines, to work hand in hand with the government and the people of PNG to contain and mitigate Covid- 19."
After thanking Australia, India, Japan, New Zealand, the European Union, the World Bank and even the United States for their "indispensable financial support", Mr Rampolla said "the WHO and the rest of the UN family in PNG" was fully committed to defeating "the scourge of Covid-19".
Source: RNZ