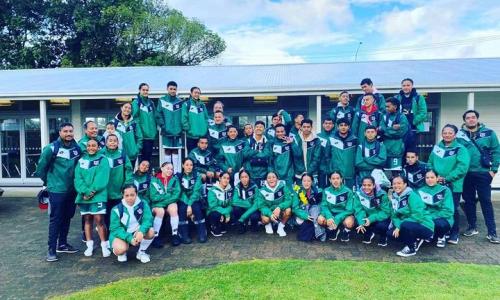 Two Cook Islands football teams achieved a major milestone during a week-long tour of Aotearoa last month.
The Under 15 boy's and Under 16 girl's teams each played four games across the Auckland region, ending a 16 month stretch without international football matches in Oceania because of the global pandemic.
Former Cook Islands international and coach of the Under 16's, Tupou Patia-Brogan, believes developing homegrown talent is the best way to grow the sport and their national teams.
"I think we will have really good future players, so that we don't have to depend on our brothers and sisters overseas, we can just get home-based players," she said.
"Not only that, it's about giving back to them. They live in the Cook Islands, they know what it's like and it's giving them that opportunity instead of them traveling overseas to get that opportunity, we should be able to give back to them at home."
The short football season coupled with competition from other sports is challenging for the Cook Islands Football Association (CIFA) who are trying to grow the game and retain their players during the off season.
But for the 37-year-old from Tupapa, football, or soccer as she calls it, has always been the sport she's come back to.
"I played so many sports – rugby, touch, netball, volleyball but somehow I was just drawn to play soccer," she explained.
"I think it's just one thing I remember my coach always telling me that the only way you will succeed in a sport is if you stick to one, and you'll grow and you'll get better and better, so I made that decision."
At 15-years-old, she was selected to play for the women's national team. She participated in a number of regional tournaments, including the Oceania Women's Championship in 2003, and quickly realized that through football she could travel the world.
"One thing I noticed about soccer is that we didn't have to fundraise," she recalled.
"So I didn't have to worry about money or how I was going to get here or there, I just needed to concentrate on my fitness, learning different skills and it was fun."
"I remember being so excited when I made that women's national team because I realized I was going to be travelling, and at that age it was a big deal… the main thing is that it made me grow as a person, it was a really good learning experience and to see the world through football was just amazing."
Tupou-Brogan had big dreams as a young footballer, with her eyes set on one day representing the Cook Islands at a FIFA World Cup.
She did just that, but it wasn't exactly how she had planned.
"I would always talk back to the referee because I didn't agree with them. I got a lot of cards, I was feisty and I was just into the play, but it got to a point where I thought to myself maybe I'll take up refereeing and teach them how to referee better."
"I studied the laws of the game and it made me understand the game a lot better, not only as a referee, but as a player as well."
Picking up the whistle opened her eyes to a whole new world, she added.
"I got abused from spectators the day I started. I realized people are human, we all make mistakes, but that's the reason why I started refereeing myself."
"I remember I was a linesman for a men's game and I didn't see where the ball went out and I got home and just cried and cried, I just broke down and didn't want to do it ever again, but my parents were really supportive and told me to pick myself up and try again, because I would only get better."
She became one of the Cook Islands top referee's and eventually landed a gig at the 2015 FIFA World Cup in Canada, marking a first for the country to officiate an international match at the global event.
"I've always thought of going to the World Cup, but I didn't know how I was going to get there."
"I started playing at the age of 10 but I didn't know if we could ever get to that level, but eventually through being a referee, I managed to travel around the Pacific, and then from there getting invited to be a FIFA referee, it was a dream come true for me."
Being a referee shaped her career both on the field, to enforcing the law off it, which saw her become a police officer on the island.
"Being a referee is very much like being a police officer, you're putting law in order."
"It's very similar and in some ways being a referee helped prepare me for that job. We get abuse as a referee, we get abuse as police officers, we stop fouls from happening so it really went hand in hand."
Football changed her life. Now, as the CIFA Women's Development Officer, she wants to inspire the future football players of the Pacific.
"I know most of the time a lot of our kids and some adults, they have to come overseas to get into teams like this one [on tour] because we don't give them the opportunity, we don't believe in them, but maybe if they're given the chance and given opportunities to travel overseas, they'll know what they need to do to get there."
"The mentality back home is laid back and they don't really know what the challenge is, so I think this is also one of the reasons we came about bringing these teams on tour, so at this young age they'll get that experience, exposure, and will set personal goals for themselves in the sport if this is what they truly want to do."
While she isn't hanging up her playing boots just yet, there's still plenty of work to be done. Her goal is to see football thrive in the Cook Islands.
"I'm still playing, maybe my time playing nationals is over, but I want to share with the younger kids that are coming up how they can be better [players]."
"I always had a vision that one day I would see our players back home, instead of always getting players from overseas… if we can work and nourish our players back home, I know they will succeed and go overseas and share to the world that coming from a small place, that we are also able to reach this level of football."
Resource: RNZ