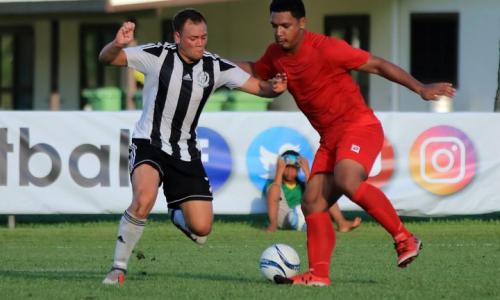 Tupapa Maraerenga have all but confirmed their place in the OFC Champions League main draw after thrashing Lotoha'apai United 4-1 to make it two wins from two in the Qualifier event in the Cook Islands.
Jared Colligan put the home side ahead in the very first minute, after latching onto a cross inside the box, before Ben Mata doubled their advantage from the penalty spot six minutes later.
Vai Lutu kept Tongan title holders Lotoha'apai in contention with a goal two minutes before half-time before second half strikes from Grover Harmon and Mata ensured a comfortable victory for Tupapa, who are now assured of advancing to the Champions League Group Stage if they avoid defeat in the final round.
Head coach Delaney Yaqona said their opponents made them work hard for the victory.
"We had a really good start and things were flowing from there but all credit to them as they came back and stuck into us and we had to pick our game up and do things a bit better to win in the end," he said.
Lotoha'apai coach Lui Muavesi said his side's slow start proved costly.
"Those two early goals, they were our downfall today. "I'm still happy with the performance even though we conceded two goals in the first ten minutes, it was a slow start and we have to accept what the result is," he said.
Meanwhile Kiwi FC kept their qualifying hopes alive with a dramatic 4-3 victory over Pago Youth from American Samoa.
The Samoan champions led 3-1 after 34 minutes before Palauni Tapusoa completed his hat-trick to level the scores at 3-3 and ensure an exciting finish with 10 minutes remaining.
Paul Scanlan proved the hero for Kiwi, slotting home his second goal of the match five minutes later to claim all three pointsm and coach Martin Tamasese admitted his side was made to work hard to stay alive in the competition.
"It was a tough game for us, the American Samoans knew our style of play and it was tough, but a win is a win and we are happy with what we've got today," he said.
"We were expecting a hard match like this and we had to try really hard but we knew we were fast and fit, but still it didn't always work our way."
Despite coming up short, Pago Youth coach Rambo Tapui was delighted with the effort shown by his players.
"It was entertaining, when we clash with Samoa it's like a war so we came out here to try to win this game, we weren't playing for a draw," he said.
Tapui also heaped praise on hat-trick hero Palauni Tapusoa, who left the team straight after the match to rush back to American Samoa and stay by his ailing father's bedside.
"One of our brothers going back tonight, his dad is in Intensive Care Unit, he scored a hat-trick today so I think his dad was here playing with him, so everything was about him today," Tapui said.
With one round to play, Tupapa lead the standings on the maximum six points and can confirm top spot if they avoid defeat against Pago Youth on Friday local time.
Lotoha'apai United and Kiwi are tied on three points, with the Tongans only needing a draw against their Samoan rivals to seal qualification to the Champions League main draw.
Source: Radionz