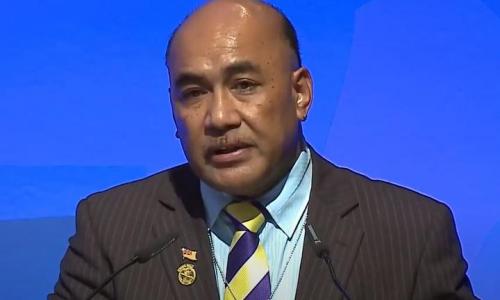 New Niue MP-elect, Richard Hipa, has confirmed his intention to put his name forward for the country's Premiership and says the weekend's election results indicate people want change.
Mr Hipa told BCN he was grateful to the people of Niue after he gained the highest number of votes with 440.
"From the bottom of my heart, I humbly thank you all for the support and also the support in my name being submitted into the election and the faith and trust of the people wanting to see a change in the government and largely also the emphasis on bringing integrity and honesty and respect to the House of Parliament," he said.
"…I was heartened and encouraged and I knew I share that with the people because for me the principles of my working life have been honesty, integrity and that has guided me all throughout my working life in serving the people of Niue."
Mr Hipa, who served as Secretary of Government from 2008 until 2017, said he was shocked to have topped the polls as a newcomer.
If elected as Premier, Mr Hipa said his priority would be to find out the financial position of the government to carry out his campaign promises in aiding families.
Following the release of a highly critical report from New Zealand's Auditor-General, which detailed unauthorised spending and mismanagement, the government had been accused of a lack of transparency and communication by opposition figures.
The government also failed to file audit reports over the past four years.
Asked whether he would align himself with the caretaker government, Mr Hipa said, if elected Premier, he planned to form a new government.
However he also acknowledged outgoing Premier Sir Toke Talagi, who lost his seat ending his 12-year reign, thanking him for his services and wishing him good health.
Meanwhile the village seat of Mutalau has been decided by coin toss after both candidates earned 26 votes each on election night.
Former policeman and prosecutor, Makaseau Ioane, reportedly won the toss and the seat over Maureen Melekitama.
Parliament to sit next week
The opening of the 17th Legislative Assembly is tentatively set for Wednesday 10 June.
The election of the Speaker will take place first before the 20 members-elect take their oath of office.
The Speaker will then proceed with the election of the Premier.
Source: RNZ