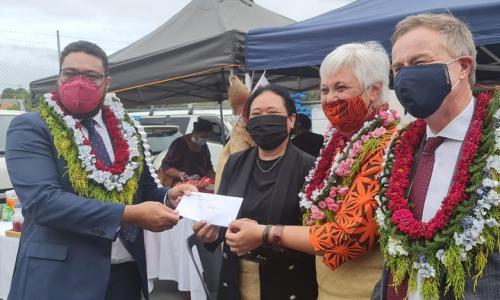 The Speaker of Tonga's Parliament says it has been a great privillege to be a part of the reaction from the Tongan community disapora in Aotearoa to the disaster in the Kingdom.
Lord Fakafanua was in Porirua, north of Wellington, for the 'Ofa ki Tonga-Takanga 'enau fohe – or Sending love to Tonga – event organised by Victoria University Te Herenga Waka and the Wellington Tongan Leaders Council.
At the event, the University gifted the Council $37,000 to support their relief effort for Tonga following the devastating eruption and tsunami.
Lord Fakafanua accepted the donation on behalf of the Council.
He said to witness first hand the amount of support and the spirit of togetherness that people have for their kāinga back home is inspiring and very touching.
"Very blessed to be invited to take part and also encourage a lot of the assitance that's been coordinated from New Zealand," he said.
He said private businesses and even some government organisations have really chipped in and helped our community to send much needed supplies back home.
"We are very blessed to have the support all the New Zealand people," he said.
Lord Fakafanua told those gathered that the rebuild work in Tonga will take a long time.
Victoria University's Chancellor, John Allen, led representatives from the Victoria University to present the donation to the Council.
Mr Allen said the volcanic eruption was a huge event and many people read about the following tsunami, we were not isolated from it and it touched us.
"In the case of our University community, we have 181 Tongan students currently studying with us, we have had heaps of Tongan students over many years at the University, so we have deep ties with the Tongan community.
"And we simply want to to stand with them in their time of need, we want to provide the support we can to help them support each other and this is a marvellous opportunity because what it is doing is enabling families here to support families at home," he said.
The university's charitable trust, the Victoria University of Wellington Foundation, provided support to coordinate additional cash donations from the university community.
For Tongan academic, Dr Mele Tupou-Vaitohi of Victoria University, they had not anticipated the amount donated and are very thankful that people opened their hearts, and their wallets to donate and help our Tongan community here, and our families in Tonga.
"I want to wish everyone the best for their "Ofa (Love) for Tonga."
She said they are also thankful to the Wellington Tongan Leaders Council who have been working closely with the University.
"We are working in partnership, and to actually see what we are seeing today is a result and an outcome of that partnership."
Source: RNZ