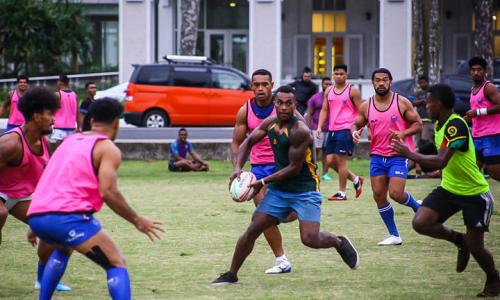 The Oceania Sevens Championship kicks off in Suva today, which doubles as a chance for teams to qualify for the Tokyo 2020 Olympic Games.
One direct qualification spot is up for grabs in both the men's and women's competitions while the respective second and third-placed teams will advance to a last-chance global repechage competition in June.
Australia, Samoa and Tonga are the leading contenders among the ten Olympic hopefuls in the men's draw, with Fiji and New Zealand already qualified for Japan after securing a top four finish on last season's World Sevens Series.
New Zealand and Australia have also confirmed their tickets to Tokyo in the women's competition, leaving Fiji and Papua New Guinea as the front-runners among the eight teams in the women's qualifying competition.
Rugby sevens will make its second appearance on the Olympic Games programme in Tokyo following Fiji and Australia's gold medal triumphs in Rio four years ago.
Oceania is the fifth region to host an Olympic qualification event for Tokyo 2020 after South and North America, Europe and Africa.
The Olympic qualifiers are being run alongside the annual Oceania Sevens Championship, where the Fiji men and Australian women are defending champions.
Fiji coach Gareth Baber has selected newcomers Kavekini Tabu and Rusiate Matai in his squad, while national under 20 representative Simione Kuruvoli has been listed as 13th man.
"I have to see these players playing in a competitive environment," Baber said. "I suppose the important part for this team is to find out exactly where we are in-terms of our fitness level and how we are developing the young players."
Waisea Nacuqu will lead the team in the absence of regular captain Paula Dranisinukula, who is being rested, while World Series player of the year Jerry Tuwai is unavailable.
"I'm not looking too much at this tournament as a do or die situation but using this opportunity us to find out where we are as a group," Baber said.
Fiji is grouped with New Zealand, Japan, New Caledonia and Niue in Pool A, which is not taking part in the Olympic qualifiers, while Australia, New Zealand, Canada and Japan are in the same situation in the women's draw.
The three-day event in Suva will also feature the Oceania Rugby Deaf tournament with men's international deaf teams from Fiji, Papua New Guinea and Samoa participating.
SOURCE: RADIO NEW ZEALAND INTERNATIONAL: PACIFIC NEWS