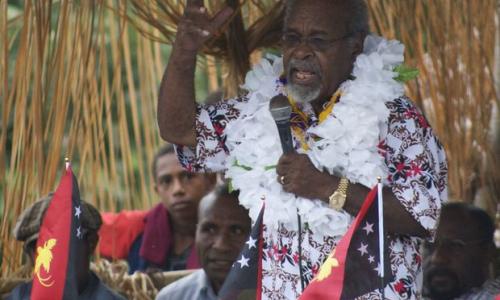 The family of former Papua New Guinea Prime Minister, Sir Michael Somare, is in isolation for seven days amid the surge in Covid-19 infections in Port Moresby.
The late Sir Michael Somare Photo: RNZ / Johnny Blades
The family is in mourning after the death of Sir Michael 11 days ago.
His funeral is scheduled for Friday in Port Moresby after which he will be flown to Wewak for burial.
In a statement the family said, after a caregiver contracted Covid-19, they went into a seven day lockdown as of Friday last week.
The Post Courier newspaper quoted Betha Somare as saying that although family members had tested negative, they were observing the isolation protocols.
The family is also calling on people who have visited their home since Sir Michael passed away to get tested for the coronavirus.
Meanwhile large crowds were gathering through the week in Port Moresby to pay respects to the Grand Chief and founding father as he was known.
The country's first prime minister, died of pancreatic cancer aged 84.
A state funeral is to be held this Friday.
But representatives of PNG's 22 provinces have been taking up the opportunity progessively to attend haus krais for Sir Michael in the capital.
Haus krai is a Tok Pisin phrase for a gathering place to remember and mourn the loss of someone.
SOURCE:  RADIO NEW ZEALAND PACIFIC