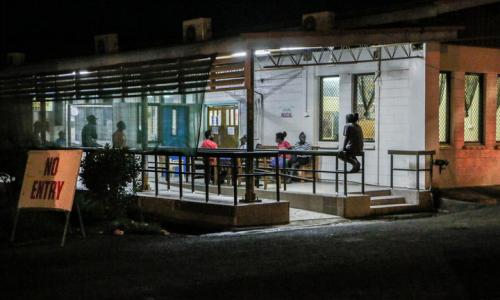 Health authorities in Solomon Islands are reporting 350 confirmed cases of Covid-19 today with many more expected in the days ahead.
56 people with the virus have been admitted to hospital however data on the severity of their infections is still being collated.
A senior advisor to the Solomon Islands health ministry Yogesh Choudry said their is evidence of widespread community transmission in the capital Honiara, nearby Malaita Province and a potential threat in the Western Province.
Dr Choudry said the ministry of health is transitioning from a containment to a mitigation strategy with case numbers expected to climb into the thousands in coming weeks.
"The number of people who are positive is also a function of our testing capacity, which stands at 200 tests a day. There are many samples that are still to be analysed and we are also testing a very limited number of people. In terms of we have a targetted testing approach and not testing everyone. So the number of cases would be probably much higher than what we have right now," he said.
Yogesh Choudry says test samples have been sent to Australia to determine the variant they are dealing with. He said even without that information the projections for the outbreak are bleak.
"So we are expecting close to 50,000 cases of Covid-19 but with the new, if it is Omicron, and looks like it is Omicron, then we are going to get more cases in Honiara itself," he said.
Meanwhile, dozens of staff at the main national hospital have also contracted Covid-19 further exacerbating the situation.
Yogesh Choudry said over 50 of the latest confirmed cases are staff at the National Referral Hospital in the capital Honiara which he said is a huge blow to an already stretched health system.
"So we'll be dealing with a shortage of critical health workers in this response. And in terms of base capacity we have only 56 beds to cater to the people who have moderate to severe disease," he said.
"Our policy is that if you are asymptomatic and mildly symptomatic then you stay at home and practice the home isolation guidelines."
Source: RNZ