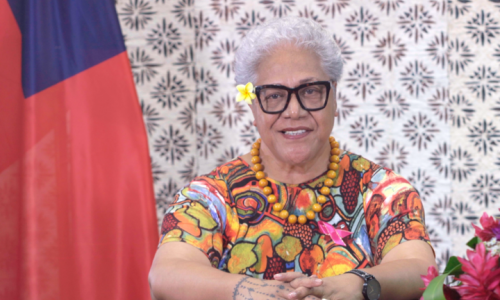 Samoa has extended its current nationwide lockdown for another 72 hours to end on Thursday night.
Prime Minister Fiame Naomi Mata'afa says the decision was made after the identification of five frontline workers who tested positive for Covid-19 while caring for 15 positive cases off a flight from Brisbane last week.
Some services will be opened temporarily and some restrictions have been eased and will see shops, petrol and cashpower outlets, banks, money transfer and chemists open temporarily today, from 8am until 2pm, Fiame said.
The same opening hours will apply on Thursday 27 January.
There had been no sign of community transmission so far, Fiame said.
She warned that if it became clear that there was community transmission, Cabinet would go back to a full level three lockdown.
Police would continue to monitor the lockdown and the public are required to show their vaccination certificates when asked and social distancing will be strictly enforced.
Meanwhile, passengers under investigation
The Samoa National Emergency Operations Centre is to investigate allegations some of the 73 people on the repatriation flight from Brisbane were flying in for a family funeral.
EOC chairperson Agafili Shem Leo said they had heard rumours some of the passengers had travelled for a funeral and they would dig deeper into the matter.
Agafili said overseas based Samoans were not allowed to make short visits home for funerals, weddings and other family events.
"The only people allowed are returning citizens who have been on work assignment overseas and students on scholarship and patients on the overseas medical treatment scheme," Agafili said.
One of the very first cases to be found in Samoa was a young woman who had travelled to Samoa to celebrate her 21st birthday with family.
On Monday, it was announced five frontline nurses looking after the positive cases also had the virus.
All medical staff have been in "camp" since the start of the lockdown at the main hospital and are not permitted to go home.
Source: RNZ