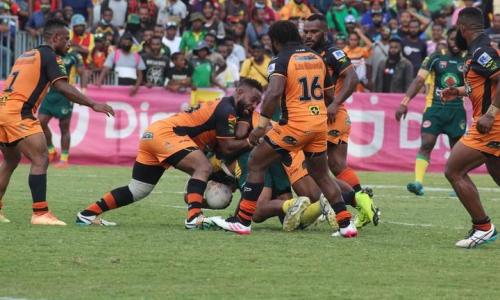 A sold out crowd of 15,000 were on hand to watch the Lae Snax Tigers be crowned Papua New Guinea's domestic rugby league champions for the fourth time in six years.
Last season's beaten finalists defeated Waghi Tumbe 16-10 at the National Football Stadium in Port Moresby on Sunday, to regain the title they last won in 2019.
PNG National Rugby League Competition Manager Ora Gairo said it was a positive way to end another season disrupted by the Covid-19 pandemic.
"After round eight we started having crowds in," he said.
"Just a few people started coming back to the games but eventually everybody else started turning out during the finals, even when we opened up to difference centres as well (outside of Port Moresby). It's been a very positive reception by the crowds."
The start of the 2021 Digicel Cup was delayed following a surge of coronavirus cases in the country.
Ora Gairo said officials have continued to be guided by the advice of the National Control Centre, which is in charge of Papua New Guinea's pandemic response.
Sunday's grand final was the third consecutive sell out crowd during the finals series and Gairo said spectators did a great job of following the Covid-19 protocols.
"People do temperature checks on everyone before coming in. I haven't heard of any reports of anyone being turned away because of high temperatures.
"We managed the masking from the gate entrances and washing as well but when they did go in there all of them attended the games and enjoyed their games."
A Digicel Cup All Stars team is scheduled to take on a Confederates All Star line-up at the end of next month, while the 2022 Digicel Cup is already pencilled in to kick off in March.
With the PNG Hunters set to base themselves in Queensland again next season and the Kumuls preparing for the Rugby League World Cup at the end of 2022, Gairo said there was plenty for local players to aspire to.
"What the players from the Digicel Cup have done in terms of pushing themselves into the Hunters squad they should be able to improve their stocks for next year as well, the Hunters.
"All in all, most of the guys have been pushing for a World Cup spot as well, even directly from the Digicel Cup, so we're working closely with coach Michael Marum."
Meanwhile the Hunters ended their season on a winning note at the weekend, beating the Tweed Seagulls 30-18 in the final round of the Intrust Super Cup regular season.
The players will now return to PNG, having last seen their friends and family seven months ago.
Resource: RNZ