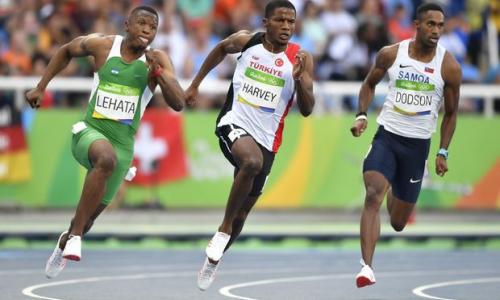 Samoa's Jeremy Dodson has missed out on a berth in the 200m semi finals at the Rio Olympics.
The 28 year old finished fifth in the opening heat in 20.51 seconds, a race won by Panama's Alonso Edward in 20.19.
That mark was well short of his personal best time of 20.07 seconds from 2011 and the 20.2 mark he was hoping to hit to assure himself of a place in the final 24.
Italy's Matteo Galvan did advance to the next round despite being seven tenths of a second slower than Dodson, after finishing second in his heat behind Justin Gatlin.
Canada's Andre de Grasse was the fastest overall qualifier in 20.03 with defending champ Usain Bolt just 15th fastest as he conserved energy in winning his heat in 20.28 seconds.
Elsewhere in Rio, Solomon Islands runner Sharon Firisua finished 31st in the women's 5000m heats in 18 minutes 1.62 seconds.
Compatriot Rosefelo Siosi will contest the men's 5000m heats tomorrow morning.
Source: RadioNZ