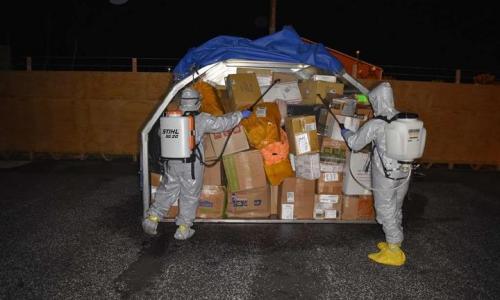 The repatriation of Marshall Islanders continues to be considered despite mounting cases of Covid-19 in Hawaii and Guam, the two principle points of departure for flights there.
The government had yet to make a decision about repatriating what is said to be over 200 people stranded in Hawai'i, Guam, the Philippines, Fiji, Kiribati and elsewhere.
But the government's National Disaster Committee is currently considering seeking cabinet endorsement for the return of two groups.
These involve a group of about 10 patients and their escorts in Honolulu. Since the beginning of August, following Hawai'i's relaxation of restrictions, Covid cases had mounted.
For the past week, Hawai'i averaged 220 new cases as the virus spread heavily on the main island of Oahu.
Another group under consideration is Marshallese in Kiribati, who are said to number about 13. Kiribati, like the Marshall Islands, had no confirmed cases of Covid-19.
The Hawai'i patients and escorts would, if approved for repatriation at some later date, travel on the single monthly United Airlines flight and undergo quarantine at the US Army Garrison – Kwajalein Atoll quarantine facilities.
Prior to departure from Honolulu, they would be required to undergo a quarantine period in Honolulu, according to officials with the National Disaster Committee.
USAG-KA has told the Marshall Islands that the maximum number of non-Army workers that it could accommodate is 10 people at a time.
Repatriation of Marshallese in Kiribati would reportedly involve a charter flight of the Air Marshall Islands Dash-8 to fly to Tarawa to return the group.
Although the Marshall Islands maintained a ban on incoming visitors since 8 March, in June it approved the US Army repatriating missile test range workers stranded in the US.
Since the first group of five arrived on 9 June, nearly 140 people have returned and undergone a 21-day quarantine period at Kwajalein, according to a Marshall Islands government weekly report on the ongoing repatriation programme.
All but four of the people repatriated through Kwajalein have been base workers. Those four include a US Embassy staff member, two Australian Navy officials, and a Member of Nitijela (parliament).
The army averaged about 13 per group in the 10 weeks that repatriation groups had been arriving on military aircraft.
The current border closure remains effective through 5 September but is expected to be extended for at least 30 days.
Source: RNZ