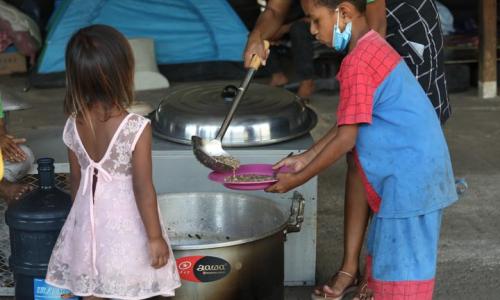 A month after being hit with devastating floods, Timor-Leste struggles to cope amid a Covid-19 outbreak.
Last month's floods left more than 45 people dead including a dozen children and tens of thousands homeless.
The floods were brought on by a cyclone in Indonesia.
In its latest update issued on 21 April, the government said 28,734 households were affected by the floods, with 90 percent of the homes in the capital Dili.
The UN Children's Agency said over 6,000 people were still in 30 evacuation centres across Dili.
Photo: Supplied/UNICEF 
The UNICEF's head in Dili, Bilal Durrani, told RNZ Pacific the situation was dire as the government is trying to cope with the challenges of Covid-19.
Durrani said with thousands still stranded at the evacuation centres, the challenge for the authorities was ensuring Covid-19 protocols were being followed in these facilities.
He said there were also people at informal shelters in other areas of the capital which were unknown to officials.
"These evacuation facilities are not designed to hold so many people and they are quite overcrowded. It's very difficult to maintain social distancing in these centres.
"We've seen a rise in a number of cases of Covid-19 in the country – more than 1,400 cases have been identified and over 700 active cases."
Prior to the floods, the government had been able to contain any outbreak of Covid-19, Durrani said.
But since the floods on March 29, he said there had been a surge in cases and three deaths confirmed.
"Unfortunately, a lot of our efforts have seen a dent because of the floods. People have had to move in large numbers to these shelters. So it's a challenge and the Health Ministry and partners like UNICEF are trying to maintain the situation."
Meanwhile, the government is seeking international help following the catastrophic floods.
NZ, Australia up support for Timor-Leste
New Zealand and Australia say they stand ready to consider any requests for assistance from Timor-Leste.
Officials from both sides of the Tasman met in Auckland last week to discuss their Covid-19 response efforts in the Pacific, including Timor-Leste.
Australia's Minister for International Development and the Pacific, Zed Seselja, told a media conference his government is helping with the recovery in Timor-Leste.
"We have received a request for assistance from Timor-Leste and we have provided almost A$7 million in an immediate humanitarian fund.
"We're setting up evacuation centres to help provide essential supplies and those discussions will be ongoing with the Timor-Leste government. in terms of what additional support are needed.
"We are aware that in addition to dealing with the natural disaster flooding, they are also trying to cope with the Covid-19 outbreak."
As of 21 April, there are 749 active cases of Covid-19 in Timor-Leste.
The government warned the risk of further spread of Covid-19 remained high. It said the nationwide Covid-19 vaccination programme, which was launched on 7 April – is ongoing and had been rolled out in most of the cities and towns, with 16,708 doses of the AstraZeneca vaccine administered.
Senator Seselja said the relationship between Canberra and Wellington was "critically important" to ensure the health and well-being of the region.
"When we look to the Pacific, we know that working together is crucial to maintaining the stability and security of our region. We know there are some significant economic challenges ahead with the Covid-19 pandemic and the climate crisis."
New Zealand's Associate Minister of Foreign Affairs Aupito William Sio met with Seselja and said NZ is also providing further support to Timor-Leste.
Aupito, who is also Minister for Pacific Peoples, said Foreign Minister Nanaia Mahuta was spearheading NZ's efforts in Dili.
Mahuta earlier announced NZ would provide essential relief items including mother and infant kits, solar lanterns, water purification tablets, water pumps, petrol generators, collapsible water containers and family hygiene kits.
She said the government would also provide a range of additional Personal Protective Equipment (PPE) items to help ensure health workers could treat Covid-19 patients safely.
These supplies will be delivered via a Royal New Zealand Air Force C-130, Mahuta said.
"We have made emergency funding available to enable the New Zealand Embassy in Dili to respond rapidly to local needs."
On 21 April, Timor-Leste's Council of Ministers proposed extending the state of emergency for Covid-19 for another 30 days.
Resource: RNZ