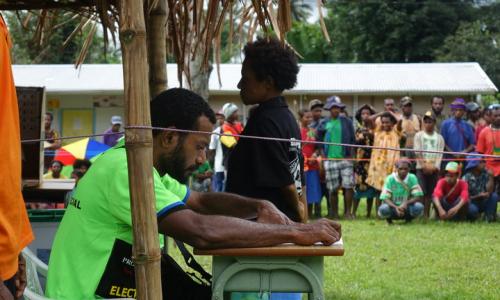 A returning officer working in Papua New Guinea's election in Morobe province is reported to have taken refuge in police custody in fear of his life, following an upset result.
Finschaffen district's returning officer, Essing Ulam, has told local media that tensions have risen around the declaration of the electorate's new Member-elect Renbo Paita yesterday.
The Pangu Pati candidate has unseated the National Parliament Speaker and member of the ruling People's National Congress party, Theo Zurenuoc.
Early this morning, a new multi million-kina, uncompleted police station in Gagidu town was burnt down.
Police are looking for suspects.
The NBC reports that additional police are understood to have been sent to neighbouring Huon Gulf District to protect government properties following further threats over vote counting results expected in the coming days.
Renbo Paita's is on track to be the youngest MP in Papua New Guinea's parliament.  His defeat of the sitting MP and speaker of parliament Theo Zurenuoc is one of several big upsets in Morobe province.
At 30 years old, the Finschhafen member-elect is on track to be the youngest MP in Papua New Guinea's new parliament.
He said that while young, he had a number of experienced people around him to support his passage into being a parliamentarian.
"But with age comes the ability to learn and that's the advantage I think I have. SO where ever I go, I believe that if I can serve my people to the best of my God-given abilities, I can learn over time, and as well as the experiences that I have, I will deliver to my people," said Renbo Paita.
SOURCE: RADIO NZ FULL ARTICLE  / PHOTO JOHNNY BLADES