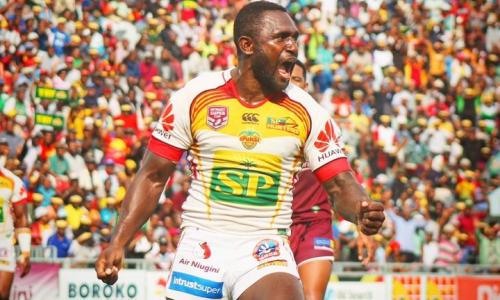 The Papua New Guinea Hunters have reached the grand final of Super Cup for the first time after defeating the Redcliffe Dolphins 6-4 at the National Football Stadium in Port Moresby.
A packed home crowd inspired a massive defensive effort from the Hunters who kept the Dolphins tryless despite the visitors putting first points on the board.
Redcliffe's Jonus Pearson kicked a penalty goal in the 18th minute and another just before half-time to give the visitors a 4-0 lead going into the break.
The arm wrestle continued into the second half with the Hunters forward pack led by the Stanton Albert matching the intensity of the Dolphins' big men Matt Lodge and Sam Anderson.
Both sides missed opportunities through handling errors and incomplete sets, until the Hunters skipper Ase Boas put his side ahead in the 65th minute.
With turnover ball from a penalty, Boas sold a dummy and ran in a try which he converted to give the home team a lead they would not yield.
"Our defence got us through," said the Hunter's coach Michael Marum.
"The Dolphins are a big side. They didn't give up, they kept coming at us," he said.
"The boys just turned up for each other all throughout the match."
Trailing at half-time, Marum said he directed his players to take advantage of the wind which was at their backs in the second-half.
"I was proud of the way they defended in the first-half and I just reminded them that if they really wanted to play in the grand final they had to put in all their effort," he said.
"The support from all the fans at home really helped the boys to get through … seven or eight million people they're all talking about how the game went … but we understand the most important game is coming up and we have to make sure our preparation is spot on."
The Dolphins have another chance to qualify for the trophy match when they meet the Sunshine Coast Falcons next Saturday.
The Hunters have a week off to prepare for the grand final at Brisbane's Suncorp stadium where the minor premiers will probably have less support than their opponents.
"We understand that," said Marum. "But as long as we have a few of our supporters there they'll push us to the line."
Source: RadioNZ