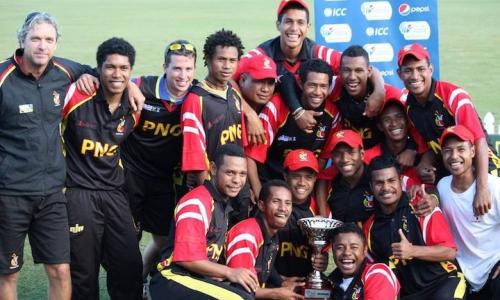 Defending champions Fiji are claiming underdog status at the Men's Under 19 Cricket World Cup qualifiers, which get underway in Samoa today.
The Baby Blues swept their East Asia Pacific rivals two years ago to qualify for a maiden World Cup appearance in 2016, where they finished in last place.
Fiji have three players returning who took part in the previous qualifying and World Cup campaign.
But head coach Joe Rika said they will start again from zero and he believed Papua New Guinea, who represented the Pacific in seven of the previous nine World Cup tournaments, were still the team to beat.
"There's no doubt that PNG have always been the favourites," he said.
"They've gone through every World Cup and they've got the proper foundations and programmes that has led to why they've been the most successful country in our region.
"PNG, no matter what grade, whatever age group – whether it's senior men's or women's – they will always be the ones that set the standard in our region."
The PNG Garamuts are striving to regain their mantle as the region's top team and head coach Kila Pala said first place is the only acceptable outcome.
"This next crop of under 19 players are very eager to try and go one better than the group before," he said.
"We will be playing in very similar conditions to what we are used to at home…the players just want to go out there and showcase their talent to the world."
"Second isn't an option for us. We want to play to the best of our ability and hopefully we can do that in Samoa. We want to go back to being the number one ranked team in the region."
Jo Rika believes whoever can adapt best to the 50-over format will be well placed to push for the title.
"Especially with the younger age groups there's been a lot of T20 cricket and even shorter formats than that, because of weather and the limited resources for us back at home – we don't have a lot of facilities," he said.
"But we've had three months to work on that. We've had enough matches back at home to try to get used to that and you've been given two years to prepare and there's no excuses.
"You've just got to make sure you man up, get out there and stick to your plans and make sure, hopefully, it works."
Samoa and Vanuatu made up the also-rans two years ago and are back for another tilt at the title in Apia.
Samoa coach Imran Adi has a young team and is taking a long-term approach to their development.
"Our young budding team will be an inspiration for the next generation of cricket players in Samoa," he said.
"This will build more confidence in our boys and their team.
"Cricket is a long game and there will be many challenges and different situations that will come our way as a young team.
"All we can do is to teach, train and condition our boys to the best that our coaching staff have to offer".
Vanuatu coach Andrew Mansale said they have taken some inspiration from Fiji's success two years ago.
"At the end of the day we're all human so if they can do it we can do it so that's the motivation the boys got and that's where we go from there. If Fiji win anyone can win, even Samoa or Vanuatu," he said.
Mansale said batting out the allotted overs will be crucial to any success over the coming fortnight.
"I think playing the 50 over game that's a big challenge for us – especially with the Pacific boys and especially this young age, " he said.
"They love to go hard and they like to go with short format of games but with this 50 over game means honestly speaking whoever bats 50 overs will win the game.
"That's what the boys have been working on and I believe everyone else will be working on the same thing so the team who bats 50 overs 100 percent will win the game."
Fiji and Papua New Guinea square off in the opening round on Tuesday, while Samoa up against Vanuatu.
The four teams will play each other twice over the coming nine days, with the champions to represent East Asia Pacific at January's Under 19 World Cup in New Zealand.
Source: RadioNZ