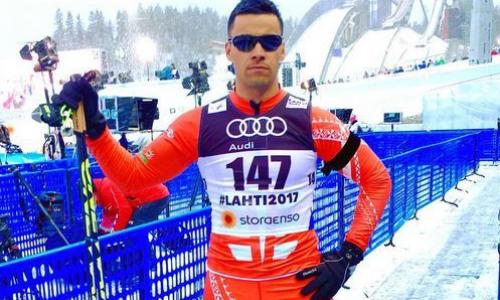 Pita Taufatofua has become just the second Tongan athlete ever to qualify for the Winter Olympics.
The 34-year-old admitted to a big feeling of relief after he booked his ticket to Pyeongchang in the final race of his cross country skiing qualification campaign in Iceland over the weekend.
"This was the last day of qualification for me, this is the end of the qualification period. I had seven races and they all failed. I did my best but I fell short each time but I thought there's one race left, it's at the end of the world…in the Arctic Circle in Iceland and I thought I have to give it all."
Taufatofua is an Oceania gold medallist in taekwondo and made global headlines with a shirtless entrance as Tonga's flagbearer at the 2016 Rio Olympics.
He announced in December 2016 he was taking a break from taekwondo in an attempt to qualify for the Winter Games, having no prior skiing experience.
The Brisbane-based athlete finished 153rd of 156 competitors in the men's sprint qualification race at the World Championships back in February.
Speaking to the Olympic Channel, Taufatofua admitted that up until the weekend not a lot had gone to plan.
"This year [we've had] so many challenges – we sacrificed everything to be here. Financially I'm in the worst position ever but I'm the happiest ever, so there was the finances, there was the training.
"This was completely different, I had to lose 15 kilograms so I've lost 15 kilograms to be a bit faster. I've had probably maybe ten weeks all up on snow. There's no snow where I'm from in Tonga so we've had to use roller-skis and they're the worst things ever made."
Pita Taufatofua will follow in the footsteps of Bruno Banani, who competed in luge at the 2014 Winter Games.
"First time we've taken a skier to the Winter Olympics and this was the last day of the qualification process, this was my last race possible, and we did it, we have done it," Taufatofua told the Olympic Channel.
"Every race up to this moment I felt pretty bad but this race I crossed and I was like:"This feels really good – something feels really good." This I give all to the big man upstairs. This is a miracle – there's nothing I have that's special, this is for the big man upstairs."
Source: RadioNZ