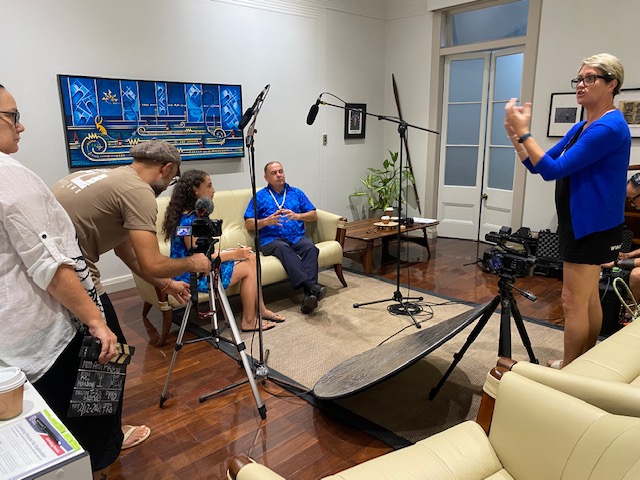 Pasifika On Air (POA) is a funding programme for Pacific broadcasters to create and tell their own stories. Funded by Pacific Cooperation Broadcasting Limited (PCBL), it is the first initiative of its kind, empowering Pasifika broadcasters to share local stories on a global stage. Working closely with Sunpix, broadcasters across the Pacific wrote, rewrote, shot, and edited a series of stories to share with the world.
As a participant in the Pasifika On Air program, Cook Island broadcaster VakaTV created a documentary titled Resilience through a Young Journalist's eyes – Atui Akaou.
It follows a young girl, Mala, driving around Rarotonga trying to find inspiration from her people's resilience in the face of Covid-19. The story shows the unwavering community spirit with a twist of Cook Island humour.
Creating a show in this style was new for VakaTV says Twila Reuther, producer of the show. "VakaTV has not been able to produce something like this in the past, so this has been a big win for us."
"It was exciting to take part [in] this journey, but also nerve wracking because you know you are representing your country and want to ensure you represent the truth of our culture and people's thoughts" says Reuther.
Making the show had its troubles. The initial script was written when the borders were closed but as the country opened, changes and edits had to be made. "By the time we start to film the borders opened so we had to edit our script a bit, but it made it hard" says Reuther.
Overcoming the challenges faced was a collective effort. Concept development was aided by Tearirki and Joy Allsworth from Itu Production; script fine tuning by Glenda Tuaine; and on camera talent performances by Uh Tetupuariki, Matangaroa Vogel, and Emilee Aviu-Kurariki.
Further afield the team at Sunpix was great says Twila. "We got assistance from the get-go. They were responsive to our queries and calls for mentoring which us a sense of 'we are on the right track' and confidence."
As a result, a highlight of production was the "amazing people" says Reuther.
"The community spirit coming together."
Resilience through a Young Journalist's eyes – Atui Akaou is now broadcasting across the Pacific on PasifikaTV.