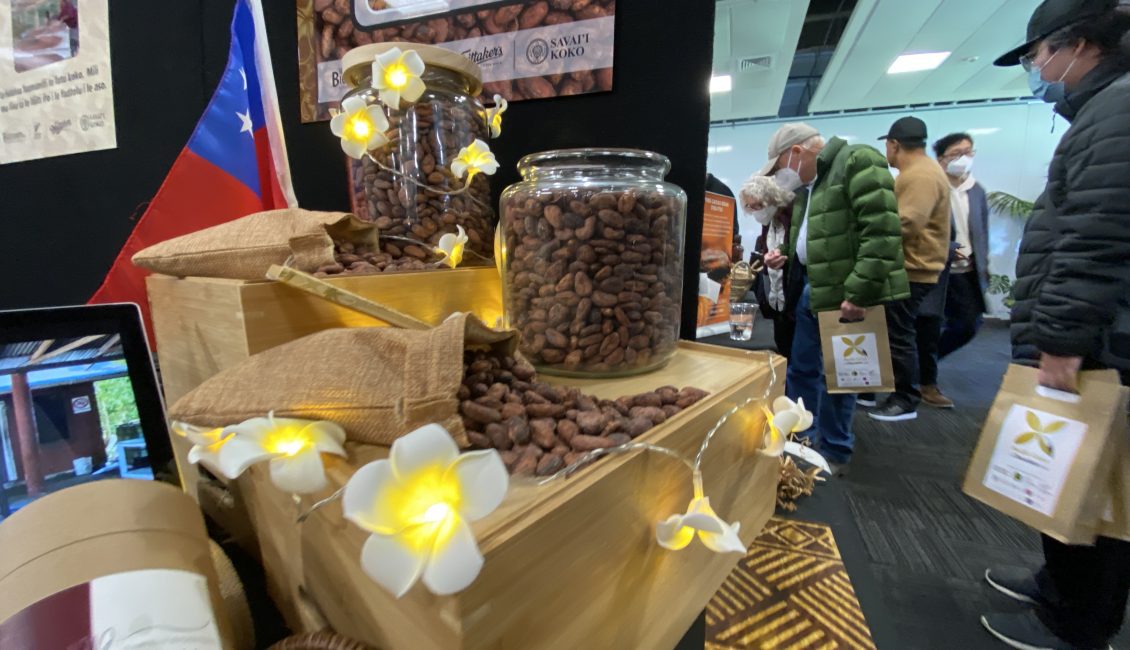 The inaugural Pacific Cacao Awards was held in Auckland over the weekend and was a fantastic expo about all things Cacao in the Pacific.
Cacao from Fiji, Papua New Guinea, Samoa, Solomon Islands, Vanuatu, Peru and the Philippines was featured at the show. Growers from Samoa, Vanuatu, Fiji, and Papua New Guinea travelled to New Zealand to educate, promote, and sell a wide range of cacao products.
The event was well attended and saw a variety of performances including a history of cacao in the Pacific, dancing, and a live demonstration of how cacao is traditionally processed. The greatest part of the day was undeniably the tastings for cacaos of different darkness and intensities, roaming from stall to stall trying cacao from all over the Pacific. Some cacao had an earthy richness while others a light smoke and creaminess, coming from the way the beans were processed and not any additives introduced in production process.
The evening's awards ceremonies represented the culmination of the efforts to put the event together, celebrating the cacao growers and chocolate producers. It was a time to celebrate both sides of the chocolate industry and promote the Pacific cacao growers as more than a transactional relationship but as relationship of mutual growth and benefit.
All food served that evening had an element of chocolate including chocolate mousses and savoury dishes such as dark chocolate pork ribs.
The awards were based on the criteria used for international cacao awards shows to aid farmers in refining their processes to aim towards the next international awards in Paris 2023. The winners of the inaugural Pacific Cacao and Chocolate Awards (PC&C) 2022 are as follows: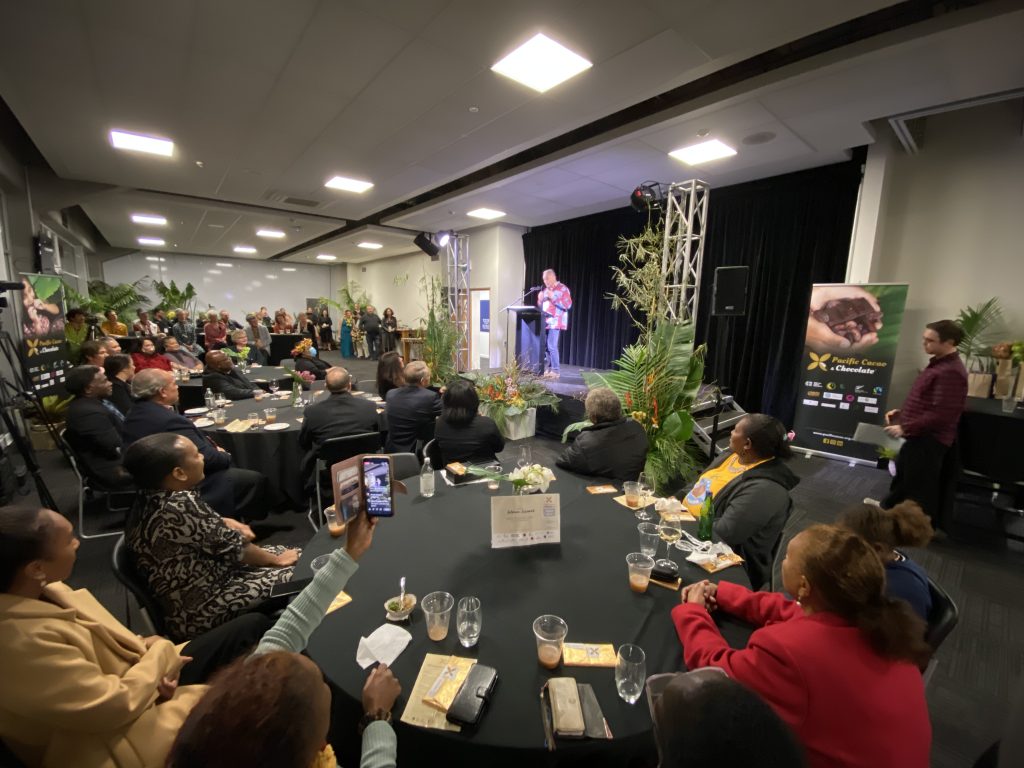 1) The Samoan Farmers' bean to bar Award:
Tausala and Suela Cook!
They won a 1-year collaboration with Raglan Chocolate, to produce a limited-edition Samoa Friendship bar. Sponsored by Pacific Cooperation Foundation and PC&C, with a prize value of $2,000
2) The Producer's bean to bar Award:
Foundry Chocolate produced 2 x outstanding bars made with 70% Vanuatu beans.
Sponsored by PC&C, Clear Rock Sustainable Energy, and Taumeasina Island Resort, with a prize value of $2000.
3) The Youth Cacao Innovators Award:
Ngaiwi Kahukoka. From Ngāti Te Ata, a 22-year-old AUT pastry chef student.
Sponsored by Ms Sunshine Organic Farms, Ao Cacao, and Taumeasina Island Resort, with a prize value of $3000.
4) The Pacific Cup
CACAO FIJI won the first Pacific Cup, chosen by the public through a guided tasting at the show's competition booth.
Sponsored by Pacific Cooperation Foundation with a prize value of $2000
5) The best Koko Samoa hot chocolate grown, processed, and brewed live.
Congratulations Fuatino Moli from Faleasiu village in Upolu.
Sponsored by Jacks Shipping Containers valued at $500
6) The best traditional hot chocolate inspired by Pacific beans, brewed live.
She Universe of Christchurch for an exceptional hot chocolate.
Sponsored by Pacific Cooperation Foundation with a prize value of $500