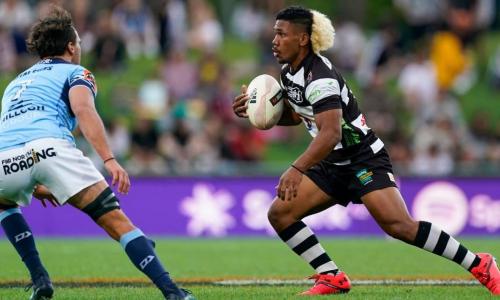 Māori All Blacks v Moana Pasifika
Rugby fans could get a glimpse into the future, when Moana Pasifika face the Māori All Blacks in Hamilton this weekend.
While the Māori have a history dating back decades, the Pacific Islanders are at the start of theirs, but have their sights set on Super Rugby as early as 2022.
Many of the squad have hinted this is where their future could lie.
Marino Mikaele-Tu'u has been on the All Blacks radar, thanks to some impressive performances for the Highlanders, but remarkably, he's only made seven appearances in Super Rugby, since making his debut in 2018.
As he prepares to wear the Moana Pasifika colours, he can already see what the team could be.
"It's sort of a gateway to what it could be in the future," says Mikaele-Tu'u.
Another Highlander – livewire Hawke's Bay halfback Folau Fakatava – has a similar story.
After moving to New Zealand from his native Tonga as a teenager, he's now one of the top No.9s in the country and a key figure in the Magpies' Mitre 10 Cup championship win.
"It's so special for me, especially representing my culture and family back in Tonga," he says.
Moana Pasifika assistant coach Aaron Mauger has guided both Mikaele-Tu'u and Fakatava at the Highlanders, and feels if the teams get the green light to enter Super Rugby, they could be a threat, with the power of the Pacific behind them.
"I think the Pasifika rugby team in Super Rugby would be a real force," he says. "If you give them the same amount of preparation time and same resources as the NZ franchises have got, I think they can really come in and compete."
This weekend's match will not only give viewers something new to watch, but will also give players a taste of what might come.
SOURCE: NEWSHUB.CO.NZ