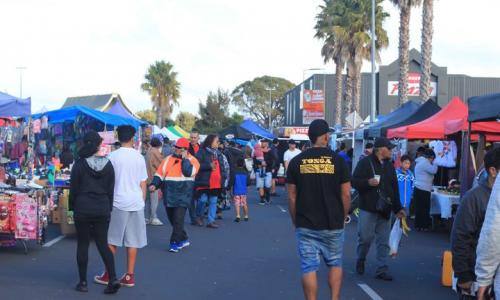 Pacific people in south Auckland share different priorities when it comes to voting in the 2017 election.
Some of their concerns include housing, mental health, climate change and education.
However, some voters are still undecided, like Keith* who is enrolled to vote in Papatoetoe.
"I'm tossing up between Labour and the Greens. I think the biggest issue for me would be youth employment."
"After high school, what is the next step for young people? and what's available in terms of opportunities?" he said.
Shakira* is enrolled to vote in Central Auckland and she said she is tossing up between two parties, but will vote for who has the best solutions for her concerns.
"Maybe along the lines of education and housing crisis, what are we going to do about the housing crisis?"
"I want to buy a house in 10 years, but can't afford it so how are we going to fix it?" she said.
Rose* lives in Mangere and shops on the day Labour's leader Jacinda Ardern visits the Saturday markets.
She has never heard of Ardern, but wants to know what her plans are to improve housing.
"Housing as just where I live here is not very safe. And it is very cold. I want to know what she is going to do. I haven't really thought about it and now Im thinking really hard."
Nathaniel* was at the Mangere markets for work on the day of Ardern's visit.
He said that he noticed the effect of Labour's new leader is having, but feels voters should do their research.
"Polynesian communities have a tendency to vote red when they don't have anything else to vote for."
"I think the Jacinda mania has really amped up their hopes and stuff. And I think that is a good thing as change needs to come through."
"At the same time they need to read up on their policies," he said.
Christian is a volunteer in his mid-twenties for the National party candidate in Mangere and believes in the party's policies.
"One of the things I've just grown up with is this idea that we need someone to come and save us."
"I believe as a people, especially as Pacific people we are incredibly blessed and we are able to stand on our own and that's National," he said.
In contrast, Nafouaina* is an elderly voter out shopping for his vegetables and backs New Zealand First.
"I am going to vote for Winston Peters because he gave me the gold card and I can catch public transport for free. No one else does anything for me."
Green Party volunteer Shari* feels strongly about what is happening in her homeland of Niue.
"Being a Pasifika woman, climate change is what I am standing for."
"Currently Niue isn't affected as badly by climate change as some of the other countries, but we won't be far off. Our food supply is already affected."
"In August, all the blossoms get blown off the mango trees because of all the storms so that is first and foremost and secondly because of our stance on poverty," she said.
For Stephanie* in Papatoetoe, her confidence is with the Maori Party.
"The deciding factor for me was thinking about where Pacific can be mainstream."
"It's not about a Pacific voice necessarily, it is about what that voice can do within that party."
"If they are a minority within that party, then I am not really interested. I want to vote for a party who has both our Pacific and Maori cousins at the forefront of their thinking," she said.
As the New Zealand's election draws closer, Pacific people in south Auckland seem engaged to vote.
For Mangere electorate voter Reina* will be at the polls and encourages people to exercise their right to vote.
"I really believe in being able to have your say and I think it is very important and especially as a young Pacific woman."
"It's an opportunity for me to vote for a government that will serve my community and the issues I truly believe in," she said.
Youth voter Ezryus* is voting for the first time this month and will be voting Labour.
"As a young person, part of the youth, we need to raise more awareness with what's going on with our youth like suicide."
"Also, trying to keep people in school and that's where we will need more help."
He advises people to vote.
"It will be good to be a part of the election and have a voice as future leaders of our country."
Sam* is from the Papakura electorate and works in the education and mental health sector.
"Part of mental health is a safe, happy environment and that means good jobs.
"That means people being able to afford to live good and comfortable lives and that is it for me, so I think Labour can do that," he said.
The Electoral Commission has information guides about how the election process works and includes translations into 26 languages that includes Maori, Samoan, Cook Islands Maori and Tongan.
Polling day is on September 23, but voting in advance starts on September 11.
Source: RadioNZ