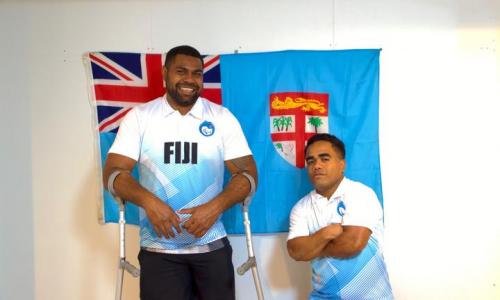 Fiji's Paralympians Inosi Bulimairewa and Iosefo Rakesa are the first athletes to represent the Pacific at the 2020 Tokyo Games today.
Athletics (Men's)
Iosefo Rakesa is set to make his debut when he competes in the F41 shot put event at 10am, with Inosi Bulimairewa competing in the F64 javelin event at 7pm.
Rakesa took up para athletics in 2016, when he was offered javelin lessons by a friend, making his first international appearance that same year.
The 25-year-old told RNZ Pacific he just wanted to do his best for his country.
Inosi Bulimairewa is ranked 12th in the World after throwing 44.53 at the World Championships in 2019.
The 33-year-old said he's excited to be competing at the 2020 Paralympics for the first time.
"I'm excited and I'm nervous at the same time, but I'm grateful to be part of the Fiji team this year," he said.
"It's an exciting moment for me and my family and I'm hoping to do well in this competition… I've never dreamt I would come this far, and to be here, it's just unbelievable."
Rakesa will compete again in the F41 men's javelin throw on 4 September.
SOURCE: RNZ Pacific