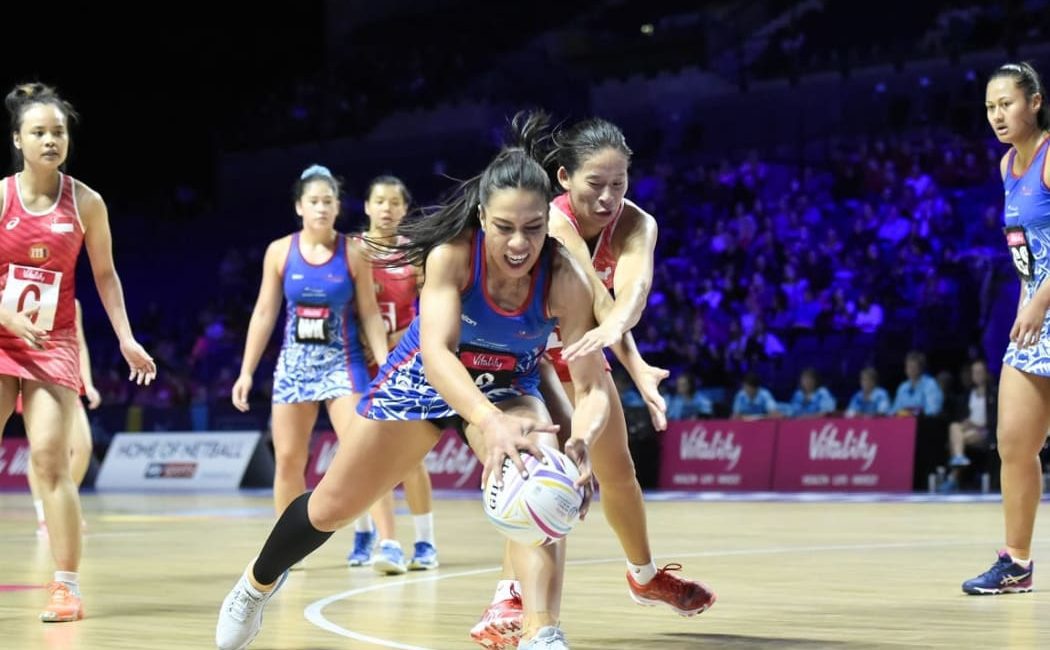 Netball playing nations in the Pacific are looking forward to finally getting international Tests again after Covid forced them into a hiatus more than two years ago.
Financial restraints and small player pools have always been a challenge for countries like Fiji, Samoa, and Cook Islands, but a massive blow came when Covid started shutting down international travel from around March 2020.
Samoa's New Zealand based coach Frances Solia has not physically been with her full team in at least three years.
She managed to scrape in one camp last year but it was very limited.
"It was just a New Zealand based camp so it didn't have the same feel or effect that a camp would normally have because we were short on numbers and had some key players in Australia," Solia said.
"But I was pretty determined to continue on because at that time we had a fixture to prepare for, which in the end didn't go ahead."
Tonga, Fiji, Samoa, and Papua New Guinea were meant to play curtain raisers during a Constellation Cup series between New Zealand and Australia in October last year but that never went ahead due to travel restrictions.
"They were also going to be ranking games so we really needed those games played to help us with our Commonwealth Games' bid."
Since netball first joined the Commonwealth Games' programme in 1998, this will be just the second time there won't be a team from the Pacific.
Samoa only just missed out on qualifying for July's Games in Birmingham.
"They extended the deadline to January this year taking into consideration Covid but it was just too difficult for us to get a series together in the timeframe."
The bottom line was they needed to play fixtures.
Samoa would normally play two international fixtures a year but they've had none since Covid so they weren't moving anywhere in their ranking points.
It came down to a numbers game, with Barbados edging Samoa.
And Covid has just added to the challenges.
Solia said it's hard to compete when you're working in an amateur space.
"We need money at the end of the day to make things happen. It's really hard in the Pacific and we're all in the same boat," Solia said.
"Covid exists but countries that have the money to be able to still go ahead and it's professional, it makes a difference. But we have to work with people that can't get the time off work, you know working with all those kinds of constraints.
"Australia have been awesome so we continue building that relationship with them, they've been good to us, Papua New Guinea, and Fiji."
Koster said it will take a concerted effort from grass roots up to reverse the rankings trend.
"One of course is the Fiji Pearls itself and ensuring they have the fullest support that we can provide and we've been able to do that with funding support from Netball Australia but also development support from Netball New Zealand," Koster said.
"At the same time we're also recognising that we need a much wider player base so we're putting in stronger place all of our development team and so it's a combined effort, it's also a long-term effort and one that we're putting in at this point."
World Cup qualifiers
The major focus right now for Pacific teams is to qualify for next year's World Cup.
Fiji is hosting Cook Islands, Tonga, Samoa and Papua New Guinea in World Cup qualifier in Suva next month.
Teams have to finish in the top two to qualify for the 2023 World Cup and there are no more opportunities to qualify after that.
Unaisi Rokoura was appointed the Fiji Pearls coach in December last year after their Australian based coach stood down.
"The Super Club competition was Unaisi's first look at any players since 2019, which is when we last played internationally at the World Cup," Koster said.
"It's been a very short preparation time for the World Cup qualifiers and really still looking for players and having that search widened."
In preparation for July's World Cup qualifiers Fiji recently hosted Singapore in some training games.
Mii Maui, the president of Netball Cook Islands, said it had been a long time since the national side had had a Test. "It would have been the Pacific Games 2018 probably in Samoa."
Wellington based Joy Bates was appointed head coach of Cook Islands in February and has since been able to visit.
"We had our first trials during the Easter weekend and that was just to get a pool of girls together to start working together," Maui said.
They have their final trials on 6 June in Rarotonga and like their Pacific neighbours want to finish in the top two in Suva next month.
"Financially it's always a struggle to take a team to international events but we always try and participate to make sure we get an opportunity to go to World Cups or to any of the other big events."
Maui said it was a huge blow when Covid also led to the cancellation of the Youth World Cup set to be host in Fiji last year.
"We missed out on an opportunity to continue to develop some of those players, who would be senior players now."
Maui said restrictions around travel over the past couple of years made it impossible to get any kind of momentum.
Maui said it was likely some New Zealand and Australian based players would be named in the team for the World Cup qualifiers.
"Initially, because of Covid restrictions we were looking at 100 percent local team management and players. However with the borders opening up we may take on some key players that we need for our team from New Zealand and Australia.
"Bearing in mind the ones that are mostly located in New Zealand are players that have been here but have gone to New Zealand for employment or further studies. So it would be more our own players who have moved to New Zealand."
Turning point?
Netball Australia was able to put a series together in March for Fiji, Papua New Guinea, Samoa, and Tonga under the PacificAus Sports Partnership.
Solia, who wasn't able to attend, had to try to prepare her players for that Sydney series online.
"We had to do our whole team building, building our culture all via Zoom and we were strangers on the phone."
Solia has had to get quite creative over the last couple of years.
"When we were doing testing the players had to record all their testing and send it through via video, we needed to see all their footage. So we had to base our selections like that and then come together as this group and then try and start to connect ASAP over Zoom."
Solia was grateful for the staff and volunteers at Netball Samoa who worked tirelessly to try to make things happen.
"We're quietly preparing, we started off on the back foot but we have every confidence in our coaching team and management team to be able to produce what they need to do in time for the qualifiers," Maui said.
Cook Islands is not part of the PacificAus Sports Partnership so they didn't send a team to Sydney in March.
"We had to fund our travel over because we weren't part of that programme … I couldn't understand why the Cook Islands isn't also included in that programme."
Is that because Australia sees Cook Islands as being more part of New Zealand?
"I did ask the question and I think I got that answer sort of so I said to them 'look even though we have the New Zealand dollar, we still are not under the New Zealand umbrella' we fund everything ourselves.
"They couldn't let me know why we weren't part of that programme … but I do believe that there is an opportunity for us to apply for that moving forward."
Koster said with the borders opening up, Fiji Netball is finally able to start making plans again.
Netball Fiji is also looking to get in another international fixture around December and is hoping to host an international series early next year.
Solia believes things are heading in the right direction and was grateful for the support they got from Australia and said she had to stay positive.
"It's having that half glass full attitude otherwise if you don't I don't think you'd survive it."
The Oceania Netball World Cup Qualifiers, for Cape Town 2023, will take place in Suva, Fiji from the 16th – 23rd July 2022.
Source: RNZ