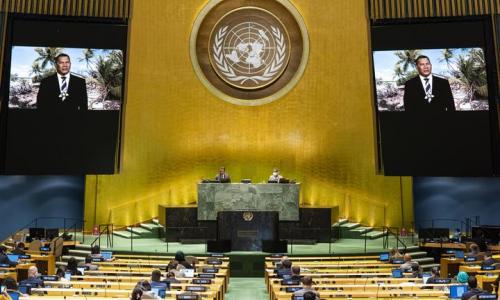 The Pacific has presented a united front to world leaders at the UN General Assembly this year.
In an unprecedented virtual edition, the 75th instalment of the assembly was conducted through pre-recorded leader's statements and online meeting rooms.
Climate Change, Ocean conservation and debt relief amid the Covid-19 pandemic were some of the recurring themes raised by Pacific leaders.
The pandemic had seen the cancellation of multiple global meetings and conferences on advancing countries commitments to climate action.
But the Prime Minister of Tuvalu Kausea Natano urged world leaders to stay the course.
"The shared prosperity and security of our Blue Pacific can only safely exist if the international community pursues efforts to limit global warning to 1.5 degrees celsius."
Most Pacific leaders also highlighted work being done to delineate and secure maritime boundaries based on fixed geographical points.
This was especially important for low-lying atoll states to protect their lucrative fishing grounds in the face of climate change induced sea level rise.
Along the same lines, the Solomon Islands prime minister called on the leaders of distant water fishing nations to curb illegal, unregulated and unreported fishing by their fleets in the Pacific.
Manasseh Sogavare said Solomon Islands tuna industry employed over 2000 people and contributes around $US60 million per annum to the local economy.
But he said Pacific countries had been losing $US160 million in direct fisheries revenue to illegal fishing each year.
"I call on distant-water-fishing-nations to reduce the incidences of illegal, unreported and unregulated fishing in our waters."
Sogavare also reiterated his country's stance alongside fellow Pacific Islands forum countries seeking a legally binding instrument on the conservation and sustainable use of marine bio-diversity in areas outside of national jurisdictions.
On Covid-19 the Pacific has done better than most with nine of the world's 12 Covid free countries located in the region.
One which had not been so fortunate was the largest Pacific Island nation, Papua New Guinea.
The country has so far recorded six deaths and over 500 cases, which for a nation of over eight million people, was relatively good especially when compared to Guam which has a population of just over 160,000 but has recorded 46 deaths and over 2300 cases of the coronavirus on the island.
PNG's prime minister told the UN general assembly the multi-faceted impacts of Covid-19 continue to test the countries and peoples of the Pacific but early preventative action has proved crucial for PNG.
"Unless and until an effective vaccine is developed and [made] available for use the health threats of Covid-19 cannot be underestimated," James Marape said.
"It is important that any Covid-19 vaccine developed should be for public health good and accessible and affordable for everyone."
However the president of the Federated States of Micronesia was one of the only ones to address the geopolitical elephant in the room appealing to the US and China to work together to help Pacific countries address their development challenges.
David Panuelo said the renewed and increased competition for access and influence by both superpowers is obvious across the Pacific.
"These activities and efforts have resulted in varying levels of benefits for our Pacific communities," David Panuelo said.
"However, they also potentially threaten to fracture long-standing alliances within out Pacific community and could become counter productive to our collective desire for regional solidarity, security and stability," he said.
The 75th session of the UN General Assembly continues online this week.
Source: RNZ