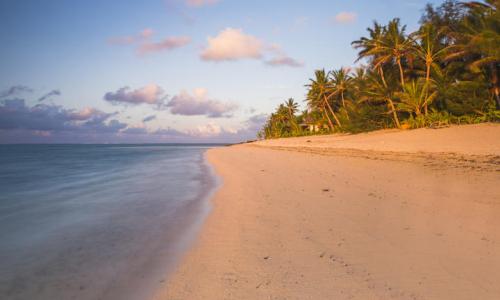 The Cook Islands government expects to confirm a "travel bridge" with New Zealand in the next week.
The concept would allow people to travel between the two countries freely, and follows a meeting between Prime Minister Jacinda Ardern and her counterpart Henry Puna last night.
Cook Islands Deputy Prime Minister Mark Brown says there's a desperate need for tourism in the country.
"We are Covid-19 free … New Zealand is in level 1 with no community transmission. So we are quite happy to see the establishment of a new travel bridge," Brown said.
No date has been set for the planned resumption of flights between the two countries.
Ardern said she had tasked officials with opening a travel bubble with the Cook Islands, Niue and Tokelau.
"The number one priority will continue to be the safety of both New Zealand and Realm countries. No one wishes to be responsible for Covid entering into the Pacific," Ardern said in a statement.
Brown said New Zealand passport holders who had been in New Zealand for at least 30 days would be eligible to travel to the Cook Islands.
He said the government had already been working with Air New Zealand and Auckland Airport on "dedicated arrival gates" and separation between travellers going between New Zealand and the Cook Islands and other international travellers.
"We've been quite persistent … by necessity for us.
"Tourism is a huge part of our economy – up to 70 percent – we've got 45 percent of our workforce that is on the wage subsidy with no other support which is going to end by September."
He said it was imperative for the Cook Islands that it had a travel bridge working and that some sort of tourism was starting before September to enable families and businesses to survive.
Source: RNZ