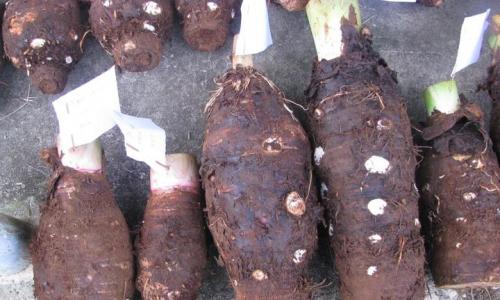 A Niuean businessman who began exporting taro to New Zealand last year is now broadening the goods he's sending into the Auckland market.
Brad Etuata started exporting taro after the Covid-19 pandemic brought a halt to tourism In Niue and increased demand for the crop.
Initially, as a trial, Mr Etuata flew a small quantity on an Air New Zealand flight but is now filling containers with hundreds of 20 kilogramme sacks of taro.
"This taro thing just came out of a discussion with a few old growers over here and how they need to get income because they were relying solely on the tourists to Niue. Since Covid hit there's been no tourists to Niue so this taro thing is the saviour for most of our people back here in Niue," he said.
He's also now sending frozen wahoo and other goods catering especially to the tens of thousands of Niueans living in Auckland, and feels he is just scratching the surface of the various Auckland markets.
"I been bringing down coconut porridge they have over here, the locals, the takihi, which is a delicacy here in Niue – I brought little portions down in those containers. And now I am trying drinking coconuts on just the last container to come down to Auckland, not long ago," he said.
Mr Etuata said the only negative has been New Zealand's Ministry of Primary Industries detaining his latest fish consignment.
He said when the tourists return he doesn't imagine it will have a significant impact on his business, because more people are now growing taro.
Resource: RNZ