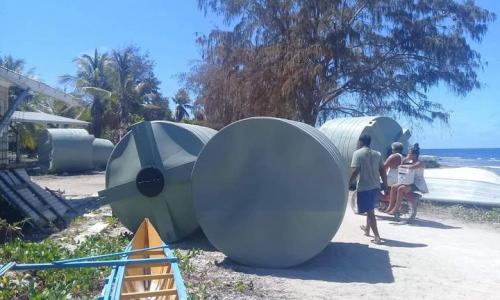 As the people of the Kiribati island of Banaba again plead for a reliable water supply, New Zealand says it stands ready to help.
Banaba, which frequently experiences drought conditions, has no sources of water apart from rainfall.
This year alone it has been through two dry spells, the most recent happening now.
Reports from Banaba say de-salination units installed earlier in the year are not working properly, despite the Kiribati government saying a team of engineers has been in to fix the problem.
Banabans have sought help from Australia and New Zealand because those two countries benefited most from the mining of phosphate which destroyed much of the island.
Both nations have responded helping with the de-salination units and some fresh water supplies.
A spokesperson for New Zealand's Ministry of Foreign Affairs says "New Zealand will continue to work with the Government of Kiribati on improving water resilience, to avoid or reduce the impacts of water scarcity".
Source: RNZ